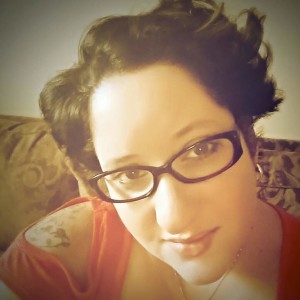 Food is not just something to nourish our bodies.  It is also the traditions, tastes, and textures of our lives.  My parents kitchen was, and is still, a living classroom for how to have a full and rich life.  Whether it's sitting at the counter cutting vegetables, or breathing deeply the rich scent of a bubbling pot of sauce on the stove, the kitchen is a beating heart, alive with the sounds and smells of home.
In my 30's now, I still seek out that comfort and love that came from my parents kitchen.  I'm married to a wonderful man named Jay and have the pleasure of being a Step Mom to his son AC.  Food is still central to our lives, and some of the best memories made have been in the kitchen or around a table scattered with empty plates.
So what does being a Curvy Cook really mean?  It means that I'm a healthy woman who happens to wear a double digit dress size in a world of tofu hot dogs and gluten free bread.  I cook for an army in good times and in bad, and I have a serious crush on Guy Fieri.  I hope that through these brief glances into my life you will be able to see just how fun, exciting, and therapeutic cooking, and eating, can really be.
Join me on the journey, it will be delicious!