In honor of Mother's Day I feel the need to write an entry about my very own rock star Momma.  For those of you who don't know, I am one of three girls.  The dreaded middle child no less!  My parents are happily married for 40 years this August, a miracle in this day and age.  They are truly one of those great love stories that we will tell our children's children about, and are the model in which we try to build our own relationships.  My mother is not the romantic in the relationship, my father is the sap for sure.  But they are the perfect compliment to each other and have grown and weathered the storms together to make a wonderful life for not only themselves but also for their children.
My mother gave me some of my very first food memories.  One of my favorite ones is when I was very young, probably 7 or so.  We used to go strawberry picking at a local farm in the summer.  This particular year, for some reason, we picked a ridiculous amount of berries.  I don't know if it was an exceptional year for them, or we went there with the express purpose of picking a ton of beautiful red gems.  I can remember quite vividly kneeling in the wet dirt and searching through the green leaves of the berry bushes to find the bounty below.  If I close my eyes and concentrate I can even smell the fresh soil and feel the warm breeze.  We shuffled down the aisles of bushes on our knees and kept filling our boxes, although some didn't quite make it to the basket before we had that crimson juice running down our chin.  We weighed our booty at the stand and took them home.  I have this picture in my head of what the kitchen looked like in our old house.  We had a rather small kitchen and every surface had an overflowing box of strawberries on it, the whole house smelled of summer and sweetness.  There is nothing that is quite as wonderful as biting into a freshly picked summer strawberry.  The sweet and tangy flavor just explodes on your tongue and you can taste the sunshine it was just basking in.  It really is a complete sensory experience that should be savored.  I'm sure what followed was hours of hulling and slicing and making jams and pies and whatever else was possible but I remember the farm.  I remember the source, which is much how I view my mom.  The source.  The source of love, and warmth, and food, and sanity.
Since then I have learned the importance of the kitchen and of food.  Some of the best conversations about life and love and each other have been while we sat at the kitchen counter cutting vegetables for soup on a cold winter day or getting some salads ready for the impromptu BBQ that has appeared because it was a warm summer day and everyone has gravitated to the house with the pool.  Everyone is always welcome at the table and amazingly there is always enough food to feed whoever shows up.  I debate whether it is our own version of loaves and fishes or if it is just my mother's unique talent of always welcoming people into her house and her heart.
As I grew up from that little girl picking strawberries in the field my mother was always there for me.  There was always a hug when I needed it, and sometimes more importantly, there was pasta.  Whether I came over crying from hurt or from happiness I left with my heart lighter and my soul and stomach full.  A cup of tea and some cookies or a glass of milk and a bowl of pasta with meatballs and the world and my life seemed ok.  My mother always had a way of putting things in perspective and showing us that even though you may be down right now, you had to go to bed tonight, wake up in the morning, and do what you need to do to move on.  Don't postpone your life, find strength in the daily routine until you can find strength in yourself that you forgot was there.  Nothing was too big that we couldn't get through it together.  And trust me, there has been some big stuff.  Family is the most important thing, and that is not just a cliche with me, it is a fact.  I am a part of something that is special and unique and everything that should be when a group of people who are so different share the similarity of a gene pool.  We love each other because of our flaws and our faults not in spite of them.
I don't think I can ever thank my mom enough for the lessons she has taught me and the recipes she has shared with me.  It is not just the fact that we are Italian and therefore have tomato sauce running through our veins, but it is the memories we have made and the moments that we have shared together around that stove that make us so attached to the food in our lives.  It is a tangible way to show love.  You don't just bring dinner to people who are grieving because they need food, you bring it to them because as they eat it, they think of you, and can physically feel the love you are sending through that gift.  You feed the body and the soul benefits.  My mother taught me that and has cooked for my body and my soul my whole life.  She shared that love and that art with me even when I didn't realize how important it was.  She has given me a legacy that will carry on to many generations through her daughters and through their children.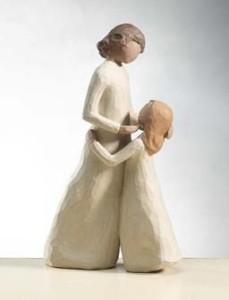 I can only hope that I have learned well from this amazing woman.  I can only hope that I can build the kind of life for my own family that she built for hers.  And I can only hope that some day she will know how much she means to me and how much I appreciate her.  As I prepared the food that we would eat on Mother's Day for dinner, I smiled in the knowledge that she would be proud of me and basked in the warmth that came from having my family in my house all together on this day to celebrate my mom.  The significance that we were eating dinner in the home that her mother lived in (which is where I live today) and were sharing the love of food with our children was not lost on me.  I'm so fortunate to have these strong women in my life, my mother, my sisters, and my grandmothers and aunts who have passed.  So, on this one day at least, take the time to cook for your mom.  Take the time to feed her soul.  I love you mom, Happy Mother's Day.