Along with just about everyone in the world today, we have been trying to eat a little healthier in our house.  Nothing crazy, no vegetarian, no vegan (I'd miss cheese WAY too much), and we still consume the dreaded gluten.  We are really just trying to find some healthy balance between bacon sandwiches and green smoothies.  I'd also like to drop a few digits off the scale which I have started to look at as my arch nemesis in my otherwise harmless bathroom.  It's starting to conspire with the mirror as well, so someone clearly needs to put a stop to this.
With this in mind, I have tried to walk a couple times a week when I work from home and I have also begun a combat kickboxing class with my sister at a local karate studio 2-3 times a week (when life doesn't intrude).  I just about die every time I go, and I curse Mr. H (our instructor) for being so evil, but I have to admit it's fun.  I try to remember just how fun it is when I'm lying in bed staring at the ceiling and practicing my deep breathing because I was blinded by pain when I moved my arm to shut off the alarm.  The good times continue when I almost black out sitting down to pee, every muscle seemingly screaming at me at once for being an idiot while the scale quietly snickers in the corner.  I will also admit that I get some small satisfaction out of making the skinny girls in class look at my robust booty for an hour while I kick and punch with flabby arms and thighs.  I think it's good for them to know that fat girls can rock out in the gym too, and I'll be honest, sometimes I do a better job than they do.  I mean seriously, you weigh like 100 lbs. soaking wet, how is it possible that I can do more sit-ups than you?  I have two boulders on my chest that I have to lift up EVERY time!  Big pansies.  It also helps that my sister is a serious drill sergeant and doesn't let me give up even when I want to.  She is also rapidly turning into one of the skinny girls.  I'm super happy for her…the bitch.
All this is great, moving more, sweating like crazy, etc.  But as we all know, you have to do something about your food as well.  This is where I struggle every time.  Shocker, I know.  I have pledged my life long allegiance to butter, bread, and bacon or as I like to call it the trinity of B.  So what do you do when faced with having to tell them goodbye?  Well, you don't.
I once went to a nutritionist, who is not only a genius, but who is seriously an amazing person.  He could get you to lose 20 lbs. just because you wanted to make HIM happy.  But one of the best things he taught me was that you can't deprive yourself of the things you love.  You eat, give or take, 21 meals in a week.  Not including smaller snacks.  So, if every week, you pick ONE of those 21 meals to splurge on, you will be just fine.  It doesn't negate the other 20 meals that you have been good about.  It also doesn't mean you can completely fall off the wagon.  But it makes total sense right?  I thought so.  So when you order Chinese food or have that ice cream sundae, DO NOT KILL YOURSELF.  You eat it, you enjoy every freaking minute of it, and you wake up the next morning, eat your yogurt and berries, and smile knowing you can do it again next week.
This has been the mindset that we have been trying to follow.  Sometimes it works great and sometimes it doesn't.  Sometimes we have rock star weeks where I prep and stock the fridge and I feel like I can start my own "Fat To Fit" show.  Then there are some other weeks when I feel like I could be in an episode of "Intervention" as I rock on the couch dipping a bag of potato chips in chocolate syrup and mumbling incoherently something about finding bacon bits to sprinkle on top while I watch a marathon of "Best Thing I Ever Ate" on the Food Network.  But in the end, baby steps are occurring, I do feel less jiggle, the scale doesn't laugh as hard or as long at me when I check in with it every week, my skin is better, and I'm sleeping like a champ.
So to keep in line with the whole balance theme, I thought I'd share with you a really great recipe that I found from an awesome book by Christine Avanti called "Skinny Chicks Don't Eat Salads" and also give you a suggestion for a really great splurge day feast.
Let's go with the fun one first…
The heavenly picture here is from a joint on State Street in New Haven, CT called Jordan's Hot Dog's & Mac.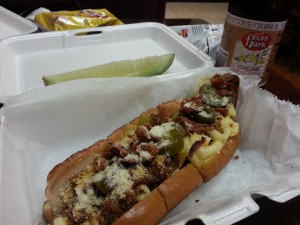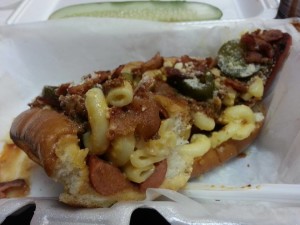 This was a serious splurge day.  I had heard about this place through a review in a local paper and decided we NEEDED to go.  So a few friends from work who are big hot dog fans came with and I got the craziest thing on the menu, The Chili Mac Dog Supreme.  The name says it all, but if you can't make it out, that is a split and griddled Hummel's hot dog, on a beautifully buttered and toasted bun with mac and cheese, chili, bacon, jalapenos, and parmesan cheese on top.  Yes it was as good as it looks and also seriously surprising.  They had this perfect ratio of toppings to hot dog and you could literally taste every layer, nothing was too heavy or overbearing and you weren't fighting to get some huge monstrosity into your mouth all while missing half the toppings in the process.  It was really great.  Go there and check them out, they are local, they are super nice people, and they are making some great grub.
Now, on to the less fun, but still yummy one…
This picture is of these really wonderful breakfasty protein muffins.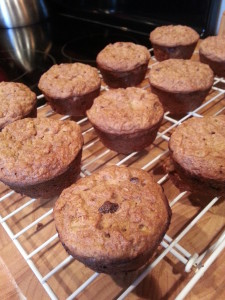 I was really skeptical about them at first, protein, cottage cheese, ugh.  However I was pleasantly surprised.  They were so yummy!  You get a huge serving size of 3 muffins for a meal, or you can throw one in your lunch bag for a snack with a protein punch.  I did not bother to chop the raisins, they were fine whole.  Warning though, do NOT use paper liners, I had some extra fiber in my first batch when I couldn't peel off all the paper from the muffin cup.  I like these room temp or even zapped for a couple seconds in the microwave for a warm treat.  They are an awesome breakfast on the go.  Enjoy!
Cinnamon Raisin Oatmeal Muffins
Nonstick cooking spray
1 ⅓ cups liquid egg whites
1 ⅓ cups low-fat cottage cheese
¼ cup omega-3 light spread
1 ⅓ cups oats
¾ cup raisins, chopped
3 Tablespoons cinnamon
2 teaspoons stevia
3 Tablespoons vanilla-flavored protein powder
 1.     Preheat the oven to 350°F.
2.    Spray a 12-cup muffin pan with cooking spray.
3.    In a large bowl, mix the egg whites, cottage cheese, and omega-3 spread until thoroughly combined.
4.    Add the oats and mix well.
5.    Stir in the remaining ingredients.
6.    Divide the batter among the prepared muffin cups.
7.    Bake for 25 to 30 minutes.
 The muffins are done when a toothpick inserted into the center of a muffin comes out clean.
 SERVES 4 (3 MUFFINS PER SERVING)
 Nutrition facts per serving:
394 calories
25 grams protein
54 grams carbohydrates
9 grams fat
 Source: Skinny Chicks Don't Eat Salads: Stop Starving, Start Eating and Losing by, Christine Avanti