Today we hit up the Country Music Hall of Fame and some very famous restaurants here.  We decided that we could not come to Nashville and not go to the Loveless Cafe.  We had been leery about going to this particular spot because we had heard the wait time can border on the insane (2 hours in line, I don't think so, no matter how good the food is).  However, we got our butts out of bed, got dressed and headed there at what we hoped would be a bit of an off time for them at 10:30.  When we got there, we parked in the first spot next to the door and walked right in to an empty foyer.  Woooohoooo!  No wait and many tables to be had.  I was practically bouncing with excitement and Jay was laughing at me, as he has done most of the last three days because of my absolute giddiness with all this amazing food and fun.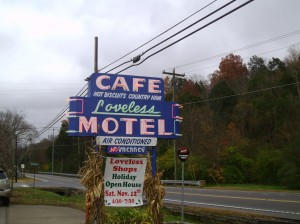 We sat down in this super cute room with old country curtains and old fashioned music signs on the walls.  They had blue gingham print table cloths and I could see why the tourists loved it.  We were brought menus and drinks and now we had to decide what to order.  The two things that the Loveless is hugely famous for is their biscuits and also their ham (which they cure themselves) with red eye gravy.  There is also a smokehouse right next to the restaurant where they make BBQ.  Since biscuits come to the table with anything you order, I decided to go with the famous country ham and red eye gravy.
Enter the biscuits.  This was my first encounter since we came to the south with real biscuits and we were not disappointed.  At all.  They were yeasty and firm but so fluffy and buttery I couldn't stand it.  They come with three kinds of house made preserves, strawberry, blackberry, and peach.  All were amazing and with a bit of butter (cause I said so) and the preserves.  I really could have just sat there and eaten them all day, forget eggs, forget ham, forget anything else…biscuits all day.  I also tried what they call sorghum which is a really light molasses.  It tastes like a heavy, thick honey and was by far my favorite thing on the biscuits (aside from butter of course).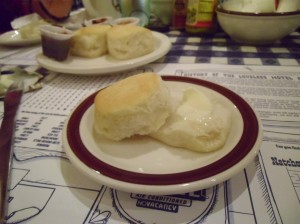 The first plate of biscuits being gone in about 5 seconds, the waiter probably thought it best that our food come out.  The ham was literally hanging off the plate, it was so big, and was accompanied by scrambled eggs and a home fry casserole (on the suggestion of the waiter).  The first bite of the ham and I knew I had never had anything like it.  It's cured yes, but not at all sweet.  It's also not nearly as salty as the hams that we have at home.  It was fatty and pungent and you could taste the pig so clearly, I said to Jay that it almost tastes grassy and so fresh.  The red eye gravy I was less enthralled with, but I think that people might have a love/hate relationship with the stuff.  Red Eye gravy is just coffee (yes coffee), ham fat (you read that right too), and some brown sugar.  Now, I'm not a huge fan of coffee in the first place and I think that is why I really wasn't digging the gravy.  However, Jay loved it, so I would not shy away from trying it and making your own call.  Another plate of biscuits?  Yes, please.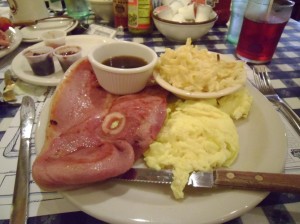 After breakfast, we meandered over to the gift shop called "Hams and Jams", no I'm not kidding, and looked around and bough some more swag (no Amy, no soup for you this time).  We also found out that we can mail order from the store, so do not be surprised if these cool items find their way into a Christmas present near you!
We then made our way out to the Country Music Hall of Fame.  It was a wonderful day including a tour of the famous Studio B and a few hours of walking through all the halls of music history.  We also took some pics of the staff assembling the red carpet area where the Country Music Awards would be tonight.  There were already people lined up around the barricades, and we heard some of them had stayed overnight there.  Really?  Crazies.  When we decided it was time to eat again, we had already made the choice to go to the famous Jack's BBQ on Broadway right in the center of all the excitement.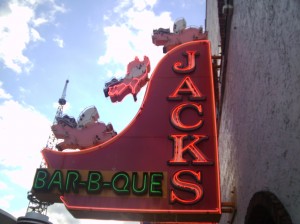 We walked the few blocks over to the restaurant and as soon as we walked in the door Jay and I both looked at each other and said "that smells awesome".  The smoke smell hits you in the face and draws you into the place like a trance.  Before you know it, you are ordering 2 combo platters with every kind of meat they make between the two of them.  Jay got the pork shoulder the brisket and the ribs.  I got the brisket, chicken, and smoked sausage.  We both got different sides, mac and cheese, wide beans, baked beans and cream corn.  All served with a couple pieces of moist, dense cornbread with a great crust on it.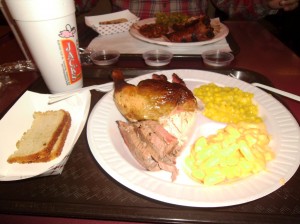 The first thing you see is the great smoke ring on the meat, it's easily an eighth of an inch wide and perfectly magenta.  All the meats were cooked absolutely perfect.  The sauces they had were all different in their own way and we tried them all.  My favorite was their vinegar based sauce, with a close second being their sweet and spicy one.  Dipping the meat and getting your hands all messy was the best part of the whole thing.  A little cornbread, a little meat, a few bites of beans.  Food does not get better than this, it's not just eating out, it's a total sensory experience, the smell of the smoke, the color of the meat, the beautiful taste and texture.  It's fun and it's just what we were looking for with BBQ.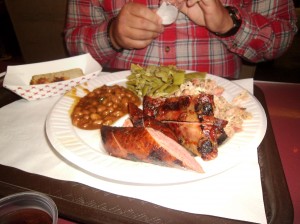 By the time we left, the streets were starting to fill and people were everywhere heading out for the CMA awards.  We decided not to stay out, but to head back to the hotel since we were quite tired and were a little cold from the temperature drop.  We walked along Broadway for a bit taking in the Music City vibe and hearing all the singers in the local joins, we went all the way down to the river and saw the paddle boat, held hands a while,  and headed back up Broadway and on the way stopped to have some ice cream before we trekked back to the car and made our way through the traffic and back to the hotel.  We watched the CMA awards on TV and made our reservations for the hotel tomorrow in Atlanta.  All in all a great day and a perfect way to end our Nashville adventure.  We are seeing so many wonderful things and eating so much amazing food, I really couldn't imagine the trip getting better.  But, we are off on the first part of our road trip tomorrow and I can't wait to see what this beautiful country has in store for us next…more to come!