Well here we are in New Orleans!  Our trip here was pretty uneventful with a 9.5 hour drive over 2 days through Georgia, Alabama, and Louisiana.  Along the way, we saw some really beautiful country and even stopped at one of the biggest peach and pecan orchards ever called Lane Orchards.  It was over 5,000 acres!  We sampled their peach cobbler and also their black berry cobbler.  Both were amazing with a heaping pile of ice cream on top…YUM.  We then spent the night in Mobile, AL before making the final drive to New Orleans.
We got to the hotel, dropped off the car and found out that the hotel had upgraded us to a corner suite on the top floor.  It is absolutely stunning with views of the entire city, a sitting room, 2 bathrooms, and a wonderful jacuzzi tub, it's the absolute perfect way to end our trip, we couldn't be happier.  We have been so lucky between weather and fabulous sights and food and now this, I just feel like we are being looked after by someone special up there!  We truly are blessed.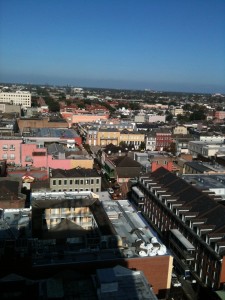 So, dropping off the car and checking into the hotel was really tough so we had to get something to eat to get our energy back up…or we were just hungry and couldn't wait for our first foodie experience here.  Whichever it was, we headed off to Cafe Beignet for some lunch.  The cafe is set in this pretty little courtyard called Music Legends Park where they have live music and statues of some of the great jazz players of the past.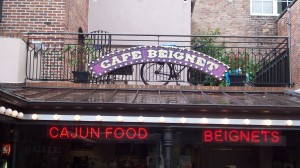 We looked over there pretty large menu (for a cafe), I decided to get my first jambalaya, Jay went with the shrimp po' boy.  We sat down at the wrought iron table and waited for our food while listening to the old school jazz that was being played for us.  It was not such a beautiful day with occasional down pours, but we were under an awning and it did not effect our mood one bit.  We were both super excited to be here.  The food came out in about 5 seconds and I'm sure I looked like a kid on Christmas.  My jambalaya was piled high in the bowl with a couple pieces of beautiful light french bread on the side to help battle the spice of the dish.  I immediately dug in.  The first thing you taste is the sausage and it is so spicy and fatty that it just makes you instantly happy.  The rice was cooked wonderfully and was not at all mushy.  You find those little gems of chicken in there too all blended together in the fabulous tomato based sauce that pulls everything together.  It's spicy enough to make your mouth dance but not so spicy that you cant taste all the individual flavors each item brings to the bowl.  It's starchy and savory and satisfying.  Jay's po' boy was great too and he was really happy with the light texture of the bread.
After we finished and were sitting there for a few minutes just enjoying the atmosphere and the music, we decided we wanted something sweet.  Jay had been eyeballing the chocolate eclair that was in the bakery case and I was ready for my first beignet.  Now if you don't know what a beignet is, it is very simple, just a french doughnut really.  It's fried dough covered in mounds of powdered sugar.  It is not something to eat while wearing black, that is for sure.  These come in an order of 3, and when they dropped them on our table, I could not believe how big they were!  They are cut into squares and were roughly about the size of my entire hand.  They were scorching hot from just being fried to order and were mounded with powdered sugar.  The aroma of the yeasty dough cooked so quickly in the oil was intoxicating.  I couldn't wait to break one of them apart and eat it.  They were a pretty dense dough but not even a little bit greasy, and I mean not at all.  They were really soft and hot and the sugar on top just melts into the dough and some forms a crust on the top, and some just ends up all over you, that's half the fun.  Fabulous…really fabulous.  Check off 2 items on the Curvy Cook New Orleans Must Have Foods list!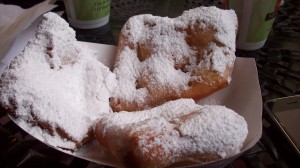 We listened to the jazz for a bit longer and then decided to head off and explore.  We went back to the hotel for a bit first to get changed.  It was freaking hot.  Not that the temperature was too much, it was only about 81 but it was humid as hell and I needed to take my jeans and sneakers off.  Once we were sufficiently stripped down, we headed to Burbon Street.  The rest of that night was spent walking, shopping, and me drinking a 24 oz. hurricane from a styrofoam cup and getting hammered.  Poor Jay.
Bourbon was everything I had imagined, and some I hadn't.  It was teeming with people and places to stop in with bars playing music everyplace (even in the off season).  We stopped and listened to some creole music for a while, Jay got to play the washboard, and I got to play the tambourine!  Super fun people.  I also had one of the famous hand grenade drinks here which are supposed to be the strongest drink you can get on the street.  It was, and with the hurricane, oh boy.  We also saw a couple karaoke bars and every kind of band from jazz, to country, to blue grass, to hip hop.  The other thing that is EVERYWHERE are strip clubs.  I mean like every other store front, it's insane.  I had no idea there were so many here and the girls were making me hysterical calling in anyone who might walk by.  Jay and I got offered no cover for couples.  Wooohooo!
When Jay decided that he was hungry again, or maybe that I just needed something to soak up some of the alcohol, we stopped into a small sandwich shop that is owned by the famous Court of the Two Sisters.  We both got po' boys.  I got smoked sausage, and Jay the roast beef with gravy.  Now, my apologies, but I do not have pictures of the sandwiches.  Remember, I was inebriated and a camera would not have been a good idea.  Take my word for it, they are AWESOME drunk late night food.  There is something so freaking fabulous about the sausage here.  It is not like anything else you have had before.  It's so smoky and spicy and perfect, I'm really going to miss it.  Po' boys come pretty much the same every place you go with lettuce tomato and pickles, some have mayo some don't, some have dressings, some don't…but the premise is the same.  The bread here is also really great.  It's light and airy and a little chewy with a crunchy crust.  It soaks up anything you put on it and makes for an all star sandwich every time.
Feeling that our first night here in New Orleans was a success, we headed back to the room.  With my Frommer's New Orleans book on my night table, we were ready for the next two days here in the Big Easy…more to come…