There is a blizzard coming tonight into tomorrow here in Connecticut with some serious snow accumulation expected.  What that means to most of us is lots of hunkering down, making comfort food, and hoping the power stays on!  In addition to some of the yummy food I'll be making over the next day or two, I also like to make sure we have something sweet to indulge in while the snow is swirling outside.
Sweet baked breads are one of life's perfect foods.  They can serve as breakfast, snack, or after dinner treat and always go beautifully with a hot cup of tea or coffee.  My Grandma Nora (my Dad's mom) always had the best recipes for breads, I've referenced her before with the Day XX post for her carrot bread too.  I can't remember ever going over to her house and not seeing one of these breads on the counter ready to be sliced thick, and spread with butter or cream cheese, and had with a nice cup of irish tea and a little chat.
I was fairly young when we would visit my Grandmother at her home ,before she moved in with my Aunt, but I always remember the smell.  I can almost smell it now as I think about it.  The closest I can get to explaining the memory is that it was a mix of butter, cooked string beans and sweet cinnamon spiced breads.  It was always a very warm and homey aroma and I loved it.
Today, to try to get that warmth into my house I made one of her fool proof recipes…pumpkin bread.  I chose pumpkin mainly because I had all the ingredients in my pantry, and also because it's a large recipe and makes 2 loaves of bread at once.  When you are hearing that there may be up to 30 inches of white fluff outside, you want to bake in bulk because you aren't going anyplace anytime soon.  If you'd like to bring a little warmth and love into your home, try this recipe, and I dare you not to sit down with a big steaming cup of tea, a warm piece of pumpkin bread slathered with real butter and not feel a curious fuzzy glow right there, deep down in your soul.
Grandma Nora's Pumpkin Bread
2/3 cup butter, slightly softened
2 2/3 cup granulated sugar
4 eggs
1 can pureed pumpkin, about 2 cups (NOT pumpkin pie filling)
2/3 cup water
3 1/3 cup flour
2 tsp baking soda
1/2 tsp baking powder
1 1/2 tsp salt
1 tsp cinnamon
1 tsp ground cloves
2/3 cup chopped walnuts (optional)
1 cup raisins (optional)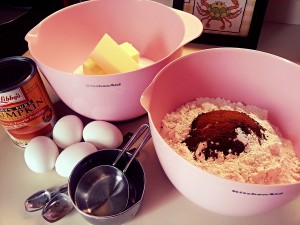 In a bowl, cream together butter and sugar until light and fluffy.  It should look like this: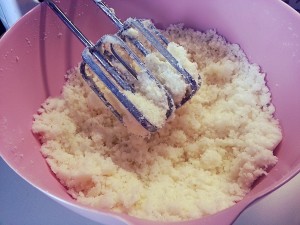 Add in eggs, pumpkin, and water and blend well.  In a separate bowl mix together your dry ingredients and slowly incorporate them into your wet.  It will be a thick batter.  If you want, you can  now fold in the nuts and/or raisins, if you don't prefer them, that's fine too, I don't like either ingredients very much in my baked goods.  The batter should look like this…there is a lot of it, so pick a big mixing bowl.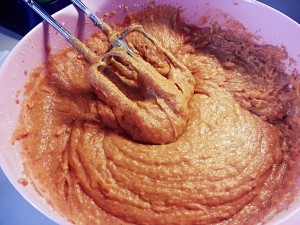 Transfer the batter into either two loaf pans, or two 8 inch round pans, or I have done one 8 inch round here and 6 large muffin tins.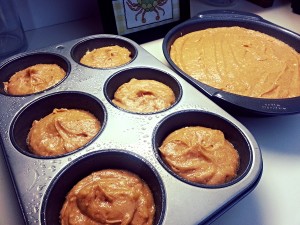 Bake at 350 degrees
about 70 minutes for loaf pans
about 50-60 minutes for the muffin and 8 inch rounds
Let them cool for about 5 minutes in the pans, and then transfer them to a wire rack to cool.  Try to avoid cutting into them until they have at least stopped steaming, but it's VERY hard and I wouldn't judge you if you did.  Enjoy!