It's the day where Kelly green explodes all over, Guiness and Jameson become trendy, corned beef is bought in bulk, and kilts make a comeback.  St. Patrick's Day has been a day filled with fun since we were kids.  I am half Irish half Italian, and in that mix I think even my Irish father would agree that the Italian side tends to overtake many things.  However, on St. Patrick's Day we get to proudly dust off those Erin Go Braugh hats, eat some awesome food, and think of my paternal grandmother Nora as we make sweet breads like her Irish soda bread.  With a cup of tea, and a smear of some real butter, nothing beats it.
Last night, Jay and I wanted a good burger, so we went to one of our favorite places to eat.  A small pub in Cheshire, CT called CJ Sparrow Pub and Eatery.  I've written about these guys before (see Panko Crusted Perfection) because they are off the hook amazing when it comes to their food.  Fried smoked gouda, that is all I have to say.  As a cool little twist of fate, we also found out that we know two of the chefs from when we were in high school, both of them super talented guys.
While we were there last night, John told us about all the amazing things they were making for today's Irish feast.  Corned beef of course, but they also had gotten some fresh ground lamb for the shepherds pie, guiness stew, and for dessert… irish cream cheesecake, Jameson creme brulee, and chocolate Guinness cake.  It took us all of 5 seconds before we decided we would be back for a repeat visit.  So off we went tonight for dinner, again…
When we got there, the place was busy, a little more packed than normal, but not uncomfortable, and we were able to sit right down at an open table.  The staff was festive in shades of greens and our friend Austin was rocking a kilt while working furiously in the tiny little kitchen of magic where regular ingredients go in and culinary masterpieces come out.  Maybe the kilt has something to do with it, I should make Jay try it out at home…
We almost never order off the regular menu here because their specials are just so crazy good and today was no exception.  They had an all Irish menu with a corned beef and cabbage dinner, a really simple corned beef sandwich, shepherds pie (with real ground lamb), Guinness stew, and for an appetizer, some irish nachos.
As soon as we sat down we ordered our drinks and the Irish nachos.  If you haven't heard of Irish nachos, they are usually thicker cut potato chips topped with cheese, corned beef, and whatever else.  These were awesome with the potato chips being fresh made, lots of cheese, big pieces of corned beef and some nice scallions and tomatoes for a little cut of freshness in with the richness.  YUM…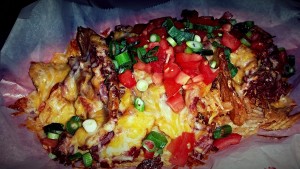 Jay didn't even have to look at the menu, after he had found out they were making the shepherds pie with lamb, he was sold.  He is a stickler for REAL shepherds pie, none of that stuff made with ground beef!  The slight gamey flavor you get from the lamb does make the dish super special and at the same time very rustic. Jay said that he almost felt like he was back at his grandmothers kitchen table in Pennsylvania…not something he says often, so kudos to Sparrows for that feat.  I snuck a bite, and the gravy was rich and very satisfying mixed with the creamy potatoes you can't go wrong.  Perfect comfort.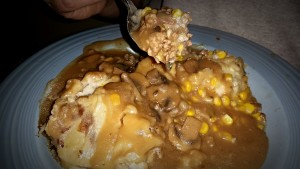 I am a corned beef purist and could probably be happy just sitting there eating a platter of the salty, fatty, bright pink fabulousness.  That being said I went for the simple corned beef sandwich with swiss cheese.  I should have known better when thinking anything at this joint would be simple.  It came on buttered and toasted seeded rye, with the cheese all melted into the soft dough on the inside.  The corned beef was shaved so thin, I'm not sure how they did it.  When you took a bite you got that hard crunch from the griddled outside and then no resistance or pull from the meat, it was like silk.  So tender and delicious that I debated just asking them to give me a to go container filled with it.  Salty, buttery, and obviously cooked in some beer.  Along side the sandwich were fries and a briny bright pickle that was the perfect offset of vinegary tang you needed to balance the richness on the rest of the plate.  It was exactly what I wanted…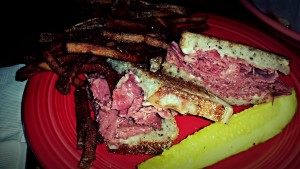 After all these wonderful Irish treats, we were stuffed.  However, how could we not take home a dessert???  I mean seriously, Guinness chocolate cake and irish cream cheesecake…what kind of foodie would I be to pass up those?  So we took home one of each, with the sound advice from our friend that we stick the cake into the microwave for 30 seconds before we ate it.  Off we went with full bellies, little cardboard boxes of sweets to enjoy when we could fit them and smiles firmly in place.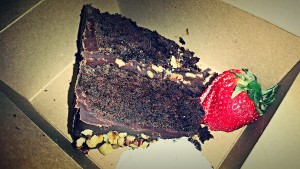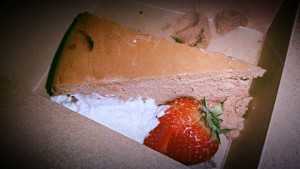 It didn't take long for us to crack open the sweets.  As soon as I tasted the cheesecake I knew we had found the gold at the end of the rainbow.  I'm completely serious when I say that this cheesecake is on my list of top 10 best desserts I've ever had.  You clearly taste the irish cream, but it is not overpowering and no trace of an alcohol bite that can sometimes creep into desserts made with spirits.  The flavors mingled together flawlessly and with a chocolate cookie crust…Jay is lucky I gave him a few bites.  The smooth and creamy texture coated your tongue and made you go back for more and more and more.  I will give John just about anything he wants if he will share with me the recipe for this one.  So good…
The Guinness cake was not my favorite, but it was still a great dessert, the Guinness flavor was a little too strong for me, but Jay polished off the entire piece in record time, so it obviously was just a matter of personal preference.  The cake was very soft and moist and had a nice thick chocolate ganache between the layers and over the top that was then studded with chopped walnuts.  Winner…
On holidays like this that are so closely tied to the food that goes with them, this meal couldn't have gotten any better.  It was both classic and innovative, and goes to show the amazing things that can happen when you get a couple guys together who love food, have respect for their product and enjoy seeing people happy.  If you want to feel Irish today, and want to eat Irish too, then find these small local gems and give them a chance.  Thank you Austin, John, and the whole crew at Sparrows for another stellar meal, you guys never disappoint…we'll be back soon!