One of my least favorite things to do is to take down the Christmas decorations at the end of January.  Christmas is by far my favorite time of the year, hands down.  I know not everyone feels that way, with the singing and shopping and craziness, it can be overwhelming if you let it be.  But I just love it, I always have.  There is something so magical about the lights and the music and of course, the food, and I just can't help but feel the goodness of people everywhere.  Donations are made, families are helped through hard times and there are always Christmas miracles to see.
This year, because of my fabulous family (Thanks to the Old Pasture Kelly Clan) Jay and I got to spend some time in New York City right before the holidays.  I'm 30 years old, and I have never seen the Rockefeller Center Christmas tree.  I know it's crazy because I have lived in Connecticut my whole life and it's like less than 2 hours away but I just never have.  Something about the crowds and New York in the winter, it's freaking freezing.  But I found myself super excited about heading down there for a couple days.  Jay's work Christmas party was the same day we were leaving, so we hit up Michael's Trattoria in Wallingford, had some great Italian food, and then headed off to New Haven to hop on the train into the city.  It was later than we had planned to leave, but the ride was uneventful and we got into Grand Central at a reasonable hour.  We decided when we got onto the street, that we were going to head over and see the tree that night instead of waiting until the next day.  I wanted to see the tree all lit up and really get the night time effect.  If you have never been to New York during the holidays, the city is a flurry of activity.  They block off roads and every street vendor you can think of is out selling everything from fake Gucci to falafel.  The stores are in full display with all kinds of holiday windows and there are people everywhere.  When you make your way down to Rockefeller Center, the crowds get thicker and you basically have to push your way through to get anywhere near the tree.  Now, crowds really don't bother me, I don't mind all the touching, but I know Jay is not a fan.  At all.  So we worked our way in to a respectable distance, took some tree shots, and headed back out.  I have to say it's cool.  The tree looks nothing like what it looks like on TV, it's so much bigger and so much prettier than you think it will be.  The attitude in the crowd is also not what people tend to think of when they think of New York.  Everyone is happy.  There was no cursing and yelling and pushing people around, everyone was just waiting their turn or trying to get a picture from right where they were.  It was generally a very happy place to be and you could feel all that positive energy kind of take you into the Christmas spirit.  Kids were amazed and so were the adults, it was like around that beautiful tree, everyone got a little piece of the season to take away with them.  It was so great, and I was really happy we decided to go there that night.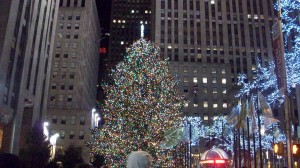 So with visions of world peace and candy canes dancing in my head, we made our way to the hotel for the night.  It was very off the beaten path and we took a cab WAY up Broadway.  We checked in, found the TV was broken, didn't care cause we were exhausted, slept, and then woke up early the next day because we had tickets to go to the Radio City Christmas Spectacular!  We wanted to stop and get something to eat before we went to the show, so we stopped at this small Deli on the corner called Broadway Bagel our first right move of the day.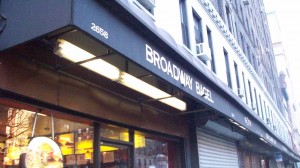 If you haven't had them before, you can not understand the amazingness that is a bagel in New York City.  You think, it's a bagel, how much more fabulous could it be?  But it is.  Trust me, they have it down to bagel science.  Having had bagels in the city before, I went straight for one of my absolute favorites which is a salt bagel.  Basically it's a plain bagel with course salt on the top, kind of like a pretzel but better.  I wanted something hot and not just cream cheese, so I had them make me a bacon, egg, and cheese with it and patiently waited while my mouth was salivating.  When we sat down, we walked by this amazing case they had of like 20 different kinds of cream cheese and cold salads, if we had had enough time I would have definitely come back here for lunch, everything looked so so so good.  There were just mounds of freshly made hand mixed cream cheeses, all of them with a little bit of what was in them on top so you could tell what they would taste like.  It almost looked like a gelato bar.  When my sandwich came out I was just about bursting with anticipation.  I love a good egg sandwich for breakfast, they are simple and so satisfying and a great way to start the day.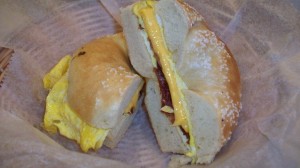 The first thing that we need to focus on is the bagel.  If you don't have a good bagel, you don't have a good sandwich.  This bagel was amazing.  Perfect rounds of really soft dough inside this slightly chewy and slightly tough exterior.  When you bite into it, the outer shell gives just enough and you reach that wonderful pillowy center that is surrounding the savory smoky bacon, egg, and cheese.  Combine that with the crunchy salt bits on the outside it's a textural explosion in your mouth and super salty, which is a good thing.  I had my fresh squeezed orange juice on hand (that came from a little bucket of crushed ice next to the register) for when the saltiness needed to be cut a bit, and the sweet tang of the orange juice mellowed it out just enough.  I love breakfast.  Jay had this Mediterranean wrap that had feta and eggs and spinach and something else that I don't remember because I was have having a foodgasm.  But he said it was good for him too.
So, with our bellies full for the moment, off we went to Radio City Music Hall!  I have never been to the Christmas show here either, and I have to admit I was skeptical about whether we would really enjoy it or not.  How wrong I was.  The show is just wonderful.  The Rockettes are flawless and make me wish for a minute that I wasn't 5'4" and pudgy.  Their inseam is probably to my armpits.  The music makes you want to sing along and you are transported back to being a child when you watch all the kids in the audience just jump out of their skin when they see Santa.  I caught myself more than once misting up.  I know, I'm a sap, but remember I really love Christmas and it was just a really happy time.  Not to mention the kids behind us were just too freaking cute and their father told us they had been awake since 5:00 AM pumping themselves up for the show.  The little girl who was probably around 5 years old actually fell asleep before the end, sitting Indian style in her chair, with her head back, and her mouth wide open.  It was priceless.
After the show we walked around for a while, stopped and got a hot chocolate, thought about a few vendors and basically tried to decide what we were going to do with ourselves the rest of the day.  It was really really cold.  Not just New England cold, we are used to that, but it was a truly bitter day with a biting wind so we weren't going to last long just walking around.  We decided to buy a bus ticket for the tour line that goes all over the city and stopped in a bunch of the places we wanted to hit up.  These are open top busses and Jay and I are complete idiots, so we went right up to the top deck of course.  It was absolutely freezing but still fun to watch the city go by.
The first stop we got off at was Chinatown.  We walked by tons of restaurant fronts with Peking ducks hanging and advertising all kinds of yummy items.  Chinatown is also like the mecca for cheap stuff.  Anything you can think of, all types of kitschy souvenirs and tshirts for $5.  Even with the cold, the streets were lined with shoppers.  We made our way up the hill towards a little section in Chinatown that is dedicated as Little Italy.  We weren't quite hungry enough for a meal but some good Italian pastry cant hurt anyone, and where better than on Arthur Avenue.  We went right into Ferrara's and waited patiently for a table to open up.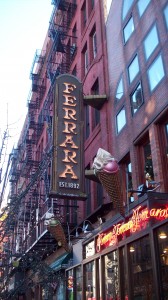 While you wait, they have their own kind of Italian torture by making you stand in line right next to the dessert case.  It's horrible, and by the time you get to the table you want about 50 items from the display.  The master plan I'm sure.  I got a nice hot cup of tea and Jay got coffee, and I ordered a fabulous hazelnut cream and chocolate layer cake and Jay got a trio of small pastries.  As we sat and defrosted, we people watched, and chatted about where we wanted to stop off next.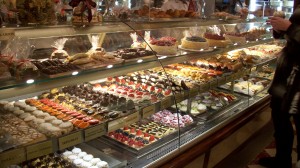 The desserts came and they were perfect.  The chocolate cake was soft and spongy with layers of this thick, heavy, almost hazelnut fudge in between.  It was super decadent and I will admit that I could not finish it all.  Jay's pastries were just as good with crunchy shells and creamy fillings.  They were both really classic Italian desserts that never disappoint.  Ferraro's is the master at creating them and it's always a treat to stop here.
When we decided we would get up and let some other weary frozen travelers sit down, we headed again back out into the frozen tundra.  We walked the several blocks back down to the bus pickup and hopped on for the next stop.
We got off this time at a place that Jay and I both had mixed emotions about going to.  Ground Zero.  I knew at some point I wanted to visit the site, but when you are faced with actually being there it is a sobering thought.  The bus dropped us off right around the corner from the new monument, so we did not see it when we got off.  When you turn the corner and the rising tower is right in front of you the feeling is almost unexplainable.  The place itself has a tangible feeling of heaviness.  When you stand there I swear the city around you is quiet, it is the strangest thing I have ever experienced.  We did not know that you had to buy tickets to actually get in to see the memorial so we did not go inside that day, but we walked over to the tower and stood there for a while.  Not many people talk.  The almost natural thing to do after this is to walk across the street into the graveyard of Trinity Church.  As we walked through the century old grave sites the emotions began to build and when we got to the entry to the church there is one gravestone facing the site of the towers that simply reads "They are at peace".  I couldnt help but break down and cry for all of those we lost and the hope that those words brought.
This church withstood the horrors of 9/11 unbelievably with hardly a scratch and was a sanctuary and home to thousands of volunteers and workers during and after the disaster.  It was a safe haven and a warm place to lay your head, or have some food, or just be held in the arms of a stranger who cared for a while before they went back out into hell.  It is still a working worship place with services held daily and a loyal congregation.  Along the periphery of the main sanctuary there are memorial plaques and stations that tell the story of the days and months after 9/11.  As we walked through and read over all the articles and saw all the pictures and memorabilia it was hard to not quietly pray and cry.  I'm very glad we stopped here and hope that many others do as well.  It's a life changing trip and something I will never forget, much like the day itself.
After we left and were waiting for the bus to take us to our next stop, we decided a snack was in order.  What can I say, when I'm sad I need food.  We walked across the street and had a New York staple.  A hot dog.  It was perfect to curb the hunger and give us a little jolt.  For the rest of the day we meandered around several places, and ended up back in Times Square, which at night looks like it's daytime.  Since it was getting later, we decided we needed to eat something and see what train we were going to hop on to get back home.  We decided that the best bat would be to actually eat in Grand Central which has some great places to stop in.  We checked the train schedule, figured we had about an hour and a half and headed off to find our last adventure of the day.
We decided on Junior's which is a great chain sandwich shop that has fabulous corned beef and amazing cheesecakes.  I ordered a corned beef reuben and Jay got a burger, we also got some onion rings for good measure.  They bring over to every table, some great pickled beets, pickles, and pickled cabbage which are typical deli fare that I happen to love.  Jay gave me all the beets with his nose turned up, but we split the pickles and cabbage.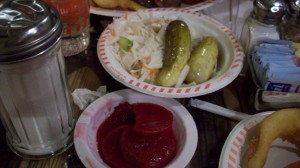 When the sandwich came I was like a kid at Christmas.  Reubens are by far one of my favorite sandwiches ever and the crazy thin sliced meat with the ribbons of fat running through it and the crisp sauerkraut on top with the creamy thousand island dressing, all on toasted rye bread…good god I could have them every day and be 500 lbs and deliriously happy.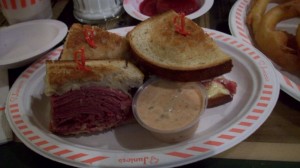 We ate our fabulous fatty food and took a mini cheesecake and a cheesecake brownie home with us for the ride back on the train.  It was the perfect sweet end to a great day in one of the biggest and best cities on earth.  I forget sometimes how lucky we are to live where we do.  We are so close to these amazing sites that people sometimes go their whole life without seeing.  We took full advantage of our time here this trip and still have more places to see when we return.  Next time it will be sooner rather than later…
Junior's Cheesecake at Grand Central