Ok, I'm coming clean.  I don't very much like cranberry sauce.  Not the kind in a can or the kind I make at home.  However, homemade cranberry sauce is so easy it's ridiculous.  I started making it myself a few years ago and have messed with a few recipes here and there including a bourbon one.  This sweet apple one though always gets the best reviews from everyone.  It's sweet, tangy, and tastes just like fall.  Don't be ashamed however if you still want the jellied stuff in the can, my father loves it and even though I make this kind he always wants some of the canned stuff anyway!  This year give this recipe a try, if you like cranberry sauce you will love it…
Sweet Apple Cranberry Sauce 
1 12 oz package of fresh cranberries
2 medium sized apples, peeled and diced
1/4 cup water
2-3 Tbsp lemon juice
1 cup sugar
dash of salt
couple shakes of cinnamon
In a medium sized sauce pot, pour in all the ingredients, stir to incorporate, and cook over medium heat.
Stir every couple minutes.  Cook down until most of the cranberries have burst, the apples are soft and the sauce has thickened.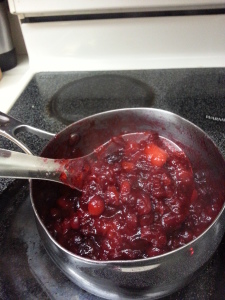 Remove from the heat and let it cool.  Pour into pretty glass jars and bring as a hostess gift, or store in the refrigerator for up to two weeks.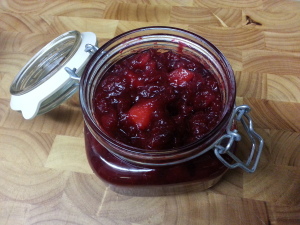 You can use this sauce on a ton of things besides turkey, stir it into some yogurt, pour it over some vanilla ice cream or top off your oatmeal with a spoonful for a warm morning breakfast!