Over the weekend we were able to get to see my best friend Sara and her family.  They live about an hour away so we don't get to see them as much as I'd like but when we do, it's like no time has gone by.  Sara and I met in college and haven't looked back since.  You know that meme that you see everywhere "You'll always be my best friend because you know too much", that's us.  We've been through a lot together and have stuck with each other for about 15 years.  We were each others maids of honor, went out to the clubs in college, and have cried together over all of life's twists.  She's in it for the long haul now, I'm not letting her out at this point.
This weekend, Sara, her husband Mel, and their three kids were decorating the house for Christmas.  We went over and helped them trim the tree and I got to make a big pot of hot chocolate for us all to sip on while we were getting in the spirit.  The kids did a great job with the tree and we ordered some yummy chinese food later to top off the night!  It was a really great day.
The absolute perfect cup of hot chocolate is sweet, but not too sweet, hot, and rich with some whipped cream on top.  For me, that perfect cup is the actual recipe from the box of Hershey's Cocoa.  You can find it here as well.  My Dad used to make this hot chocolate for us when we would go sledding outside or when it was a really cold day.  Whenever I taste it, I'm transported back to my parents kitchen.  It makes me warm and happy and all fuzzy inside.  I was so happy to be able to share it this weekend with these people I love.  Try it for yourself and maybe you can start your own new tradition!  Don 't forget to really go for the gold and use whole milk and canned whipped cream, it makes a world of difference.  Enjoy!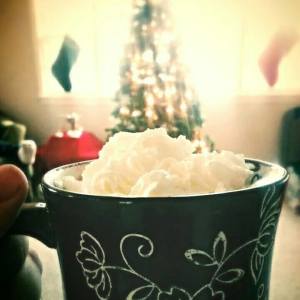 Ingredients
1/2 cup sugar
1/4 cup HERSHEY'S Cocoa
Dash salt
1/3 cup hot water
4 cups (1 qt.) milk
3/4 teaspoon vanilla extract
Miniature marshmallows or sweetened whipped cream (optional)
Directions
1. Stir together sugar, cocoa and salt in medium saucepan; stir in water. Cook over medium heat, stirring constantly, until mixture comes to a boil. Boil and stir 2 minutes. Add milk; stirring constantly, heat to serving temperature. Do Not Boil.
2. Remove from heat; add vanilla. Beat with rotary beater or whisk until foamy. Serve topped with marshmallows or whipped cream, if desired. Five 8-oz. servings.