It is a cold, rainy, miserable day here in Connecticut.  Jay has been sick this week and I was out late at a concert last night.  We picked up AC this morning and came home with the intention of going to my parents house to help get ready for their Christmas party next weekend, and do some laundry.  That did not happen.  Instead, we sat here on the couches and watched about 3 Christmas movies, ate grilled cheese, and took naps.  I'm pretty happy with that life choice.
Around 5:00 I figured I probably should make us all something to eat.  I didn't really want pasta, which would have been my quick standby, and I hadn't really taken anything out of the freezer to make something else.  When I opened up the freezer, what I did see was the last package of andouille sausage I had stashed in there.  My parents and older sister and brother in law went to New Orleans earlier this year and Jay and I stayed with her 2 children while they were gone.  I was paid in sausage.  Fair trade in my book.  If you haven't had abdouille sausage from New Orleans, you have never lived.  It's fatty and spicy and smokey and freaking delicious.  They sent me 2 huge links of it, and I broke it up into smaller portions of about a pound or so and stuck them in the freezer to use sparingly.  I've made jambalaya a couple times and had one package left.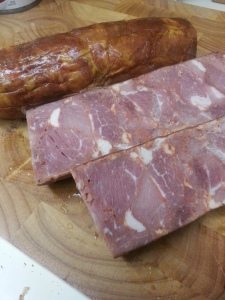 I decided to go to my trusty pantry and make a quick soup for us all.  It would warm us up and I could bring leftovers to my parents tomorrow.  Win, win.  What came out of it was this super yummy soup that is hearty and full of flavor.  The inspiration was a kale soup that my father makes sometimes in the winter, and I did manage to get some pasta in there with a box of ditallini to bulk it up.
Give this one a try on a cold day, your family will love it and with a nice crusty bread, it's a perfect end to a long day.  Enjoy!
Cajun Andouille Soup
1 lb andouille sausage, diced 2 medium onions, diced 2 Tbsp finely diced garlic 1 large bag of frozen cut leaf spinach 2 cans of red kidney beans, one can drained, the other with the juice 2 boxes of chicken stock (8 cups total) 2-3 cups water 2 Tbsp olive oil 2 Tbsp Old Bay Seasoning Few shakes of hot sauce or some red pepper flakes (optional) Salt and Pepper to taste 1 lb of small pasta such as ditallini, pastina, stellina, etc.  
In an 8 Quart pot, heat the oil over medium high heat and lightly brown the sausage to start to render the fat.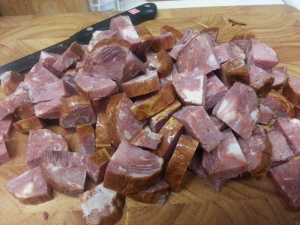 Add in the onions and garlic and cook until the onions are just transparent.  Add in the beans and the frozen spinach and add in the Old Bay, hot sauce, and some salt and pepper to taste.  Cook for a few minutes.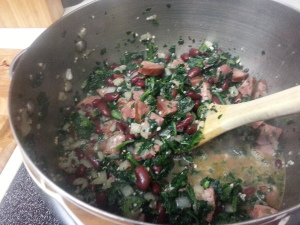 Add in the stock and enough water to fill the pot to within about 2 or 3 inches of the top.  Let the soup come to a boil and lower to a med low heat and simmer for about 15-20 minutes.  Taste for seasoning, and add salt and pepper as needed.  Add in the pasta and boil according to the package directions, stirring occasionally.  Cooking the pasta in the soup gives it a little body.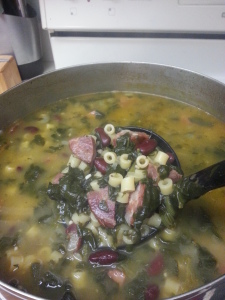 When the pasta is done, serve up the soup in big bowls with a couple pieces of crusty bread.  YUM!