Jay and I love pizza.  There are times that we like to order it from a local place or go out for a really good slice of brick oven where the crust is charred and fabulous.  However, I would say I probably make it at home 2 or three times a month and I really love this version too.  I like to make a really thick pan pizza that is kind of a Sicilian or focaccia crust.  It's super yeasty and soft in the middle with a crunchy outside crust.  A couple pieces fill you up for sure.  If you are looking for low carb, this is not your pie, but if you are looking for a delicious dinner that you can pretty much customize with anything you have in the fridge, than this is for you.  Jay even came into the kitchen and helped with this one.  Miracles never cease…
Thick Crust Pizza
1 (3 lb) package of pizza dough brought to room temperature by sitting out on the counter for a while 4-5 Tbsp olive oil 1 1/2 cups pizza sauce 1 cup grated parmesan cheese 2 cups mozzarella cheese (or any other good melting cheese such as monterey jack or fontina) any toppings you like
Preheat the oven to 425.  Spray a large cookie sheet with non-stick spray and then pour 2 or 3 of the Tbsp of olive oil onto the pan and spread it around with your fingers.  Dump the dough onto the pan and gently pull and spread the dough to fit the pan.  As it spreads, pour on the remaining olive oil and spread it onto the top as you work the dough.  You want the bottom and the surface of the dough to be glazed with the oil so that it makes a nice crust.  This will take a few minutes to get the dough to relax and expand so be patient.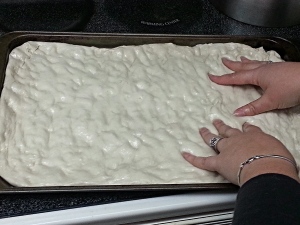 Spread on the pizza sauce, any kind you have.  I happened to have a white pizza sauce with lots of garlic but any sauce will do.  You can even use leftovers from pasta night.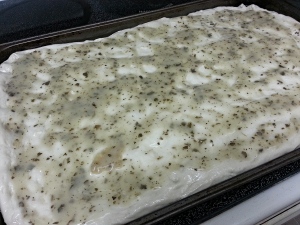 You then want to evenly spread out half of the parmesan cheese and about a third of the shredded mozz.  Then add on your toppings.  You can use anything you like.  We had some leftover salami from sandwiches and used that.  You can do meatballs, chicken, peppers, taco meat from taco Tuesday, whatever is in the fridge.  Be creative.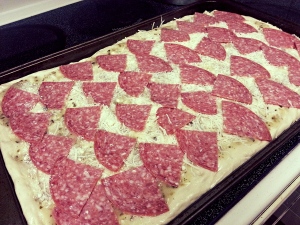 Top it off with the remaining mozz. and then the rest of the parmesan.  It will look like this.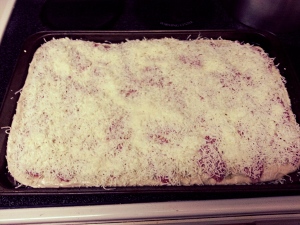 Bake it in the oven for about 20 – 25 minutes to ensure the dough is cooked through and you get a nice crust.  When it's golden brown, bubbly, and fabulous, take it out of the oven.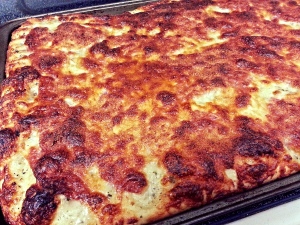 Transfer it to a cutting board or other surface you can cut on using a couple large spatulas.  Use a pizza cutter and cut it into about 12 pieces.  These are big pieces, you can probably serve 6 people.
Can you say fabulous?  Look at that beauty!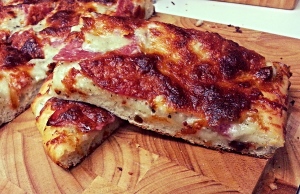 And how's the crust?  Oh yeah, BANGIN'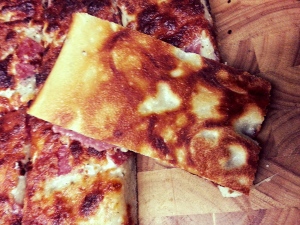 Forget the take out…make this instead.  And by the way, leftovers rock the next day.  Enjoy!