There are very few TV shows that I have been committed to watching with any kind of passion.  However, there are two as of late that I will admit I watching with complete faithfulness.  Sons of Anarchy and Game of Thrones.  Tonight, one of them ends forever.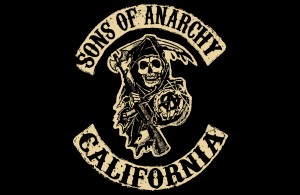 Sons of Anarchy is a total guilty pleasure.  It's the story of a California motorcycle club, the Sons of Anarchy, and loosely mirrors Shakespeare's Hamlet.  The writing by Kurt Sutter is serious evil genius, he is a master storyteller and the intricacies of the plot and the characters pull you back episode after episode.  That and the fact that you get to see Charlie Hunnam's ass on a regular basis.
This show has consumed my Tuesday nights for 7 seasons and I'm beyond sad to see it ending.  However, rather than going on for years and years and letting the writing get stale and the characters deteriorate, the show creators are ending on top and going out while their fan base is huge and loyal.  Kudos to them for knowing when to end a great story.
So how do you mentally prepare for the end of a committed relationship to fictional characters?  Here's a few tips…
Look back and remember the good times –  Binge watching every episode from the past 6 seasons may not sound like a good idea, but it's the winter and what else do you really have to do anyway?  Personally I think this was the reason Netflix was invented.  It may seem like unnecessary punishment rehashing all the good times and all the blood, guts, and biker butts, but I highly recommend it.  This is the equivalent of going through all your old relationship photos and then setting them on fire.
Cut your ties –  Come out of those SOA Facebook groups, put away the leather chaps, and take down the life size poster of Jax you have hanging in the closet.  Wrap up the shot glasses, return the Harley your wife isn't talking to you about, and take down your shrine to Opie.  The more you see reminders of a show that will never be again, the harder it will be to move on to another group of fictional friends.  Cut your ties, put them in a shoe box on a shelf in the basement and forget them.
Drink away your feelings –  Drink.  Drink heavily.  Dull the pain and the feelings of betrayal and then write Kurt Sutter an angry incoherent email about how he should have never started this tale of brothers in crime that has consumed you.  He's a sick bastard, he'll appreciate your pain and laugh heartily.
Find someone new – The best way to get over someone is to get under someone else.  That's sound advice right there.  Find a new love, and the world will eventually right itself again.  You may have to hit up a few shows in order to get it right, but keep trying.  And keep hope alive, the diabolical genius who created this epic show is already working on a new show called The Bastard Executioner…I don't know about you, but I'm in.