Every two years my parents have a kick ass Christmas party and invite a ton of people to come eat, drink and be very merry in their home.  It's always a good time.  The house becomes full of friends and buzzes with the sounds of old stories, new events, and laughter.  This year was no exception and we had a night filled with love and holiday spirit.
My parents are both retired (I hate them) and so they were able to do a ton of prep for the party during the week, but we all came together Saturday morning and rallied in the kitchen to finish up the prep, start cooking things in the ovens and get plating.  We pounded out the food as the day went on, and everyone had plenty to eat, cocktails and conversation.  As the night wound down, we could see that we had more leftover food than we had planned on, it happens often at the Kelly house.  We put everything away for the night and on Sunday my sisters and I went back and divided up some of the food for everyone to take home.  Not only was it a great weekend, but we had a good start on the weeknight meals thanks to my parents party!
I know some people don't enjoy leftovers, but I love them.  We always ate them at our house and my Mom would make kick ass reinventions of the food that was in the fridge.  Today I made the classic leftover dish in my family.  Pot pie.  My parents had roasted a couple turkey breasts that they then sliced for little sandwiches.  We took home about a pound of it along with some leftovers from the veggie plate, namely carrots and celery.  With a few pantry staples and a quick run to the store when we were out doing some errands, we had the makings of a great turkey pot pie.
This turkey pot pie is a complete meal with lots of big chunks of veggies and a topping of stuffing that Jay asked for specifically!  It is semi homemade in that I take some help from the grocery store premade items.  If you'd rather make everything yourself, go for it.  But on a Monday night, premade crust and some canned goods were the way to go for us.  It takes a couple steps to make, but is totally worth it.  This recipe made two large pies, we ate one for dinner and wrapped and froze the second for a quick dinner another night in the future.  Enjoy!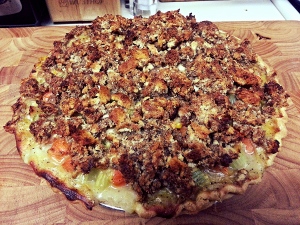 Stuffing Topped Turkey Pot Pie
1 pound cooked turkey, cut into pieces 1 small bag of baby carrots, cut into bite sized chunks 1 small bag of celery, cut into bite sized chunks 2 medium sized onions, large diced 1 can of corn 2 cans cream of chicken soup 1 cup milk 2Tbsp butter salt and pepper to taste 2 tsp dried rubbed sage 1/2 tsp dried thyme 1 package of your favorite stuffing mix, prepared according to the directions. 2 premade, unbaked pie crusts
Melt the butter in a large, high rimmed frying pan, saute the onions, carrots, and celery, salt, pepper, and dried herbs until they are just softening.  Stir in the turkey, canned corn, canned soup and milk and stir until combined.  Simmer for a couple minutes.  While the mix is cooking, make the stuffing. according to the package.  Place the pie crusts onto a cookie sheet and ladle in the pot pie ingredients evenly across the two pie tins.  Place the stuffing over the tops of the pies and gently pat down to adhere the stuffing to the pie.  Bake at 375 for about 30-45 minutes or until they are browned and bubbling.  Let cool slightly before cutting and serving.
I served one pie for dinner, the other I let cool, then wrapped in plastic wrap and tin foil and stuck in the freezer to be used another night for a quick meal.
Look at those beautiful leftovers!