Tis the season for making lists, looking for deals, and trying to find the perfect something for the special people in your life.  I know from experience that there are times when Christmas shopping can get out of hand.  I've been totally guilty of spending more than I should and making myself a little stressed trying to find that one perfect thing.  However, as I've gotten older (yes, I just said that) I have come to realize that the perfect gift doesn't have to be expensive, it doesn't even have to be bought at a store.  The only thing that is important is that the gift shows you have thought about the recipient and not just given them the great deal you saw on the sale rack, that by the way, they will never use.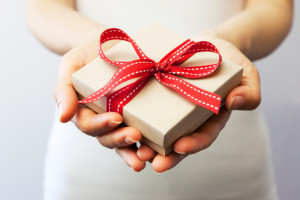 Here's a few pointers on how to get a great gift, no matter who you are shopping for, and no matter when you are shopping…it's not only Christmas that matters!
Make a list –  I know that this has nothing directly to do with the actual gift buying, however making a list is super important.  You can make a list however works best for you, but for me it has to be something I can take with me.  If you make the list on your computer or on the chalkboard in the kitchen you can't go back to it when you happen to find yourself at the mall and see the buy two get three free deal.  I've used the notes app on my phone and there are a million actual Christmas shopping list apps you can use too.  In the end I always go back to a piece of actual notebook paper with a pencil.  I know it's old school, but it is just easier for me.  I'm able to group the list as I want, I can write and erase and can see everything at one glance as opposed to scrolling through pages on my phone.  Having the list also shows you the volume of who you have to shop for and can curb your spending when you see it all laid out.
Remember who you  are buying for –  There's a big difference between buying for your partner and buying for the grab bag you have to do at work.  What does the person like?  Do they have hobbies?  Are they foodies (hint hint)?  Are they emotional or are they funny?  Basically, you want to give them the same feeling when they open a gift that you want to feel when you open a great gift.  One of the best presents I gave was to each of my immediate family members the Christmas after my first nephew was born.  I made everyone custom picture books from Shutterfly.  Not only were they awesome to open and see everyone paging through and crying or laughing, but adding personal touches for each of them within the picture captions made it so special.  These were not super expensive, but they really took some time and effort to make, and it paid off.  For me, I love getting restaurant gift cards for places I haven't been to so I can try them out.  I also absolutely adore getting home made items.  Fudge, cookies, hot chocolate mix, soups, the list goes on.
To buy, make, or donate –  This leads right into whether you should buy, make or donate.  Trust me on this one, the price doesn't change much.  Even if you make things, you still have to buy everything you need in order to cook so don't think you will save a ton of cash most of the time.  The reason I like to make gifts is because I feel like sometimes it is more personal.  That and I really love to try new recipes and want to share them with people when they work out.  My sisters and I have been making gifts forever.  For a lot of years we would take a weekend and make Christmas candy.  We've done everything from chocolate drizzled caramel corn to crunchy peppermint bark.    Recently I've been trying some other options like canning a bacon jam and an onion compote.  Last year I even canned soups, they were my favorite.  The gifts also don't have to be food.  If you have a hobby or passion, go for that as well.  My mother in law makes awesome soaps and sells them all over the place at fairs and events.  I love getting them for gifts because we use them all year long, they smell amazing, and we never have to buy soap!  Incidentally, if you'd like to get some yourself you can visit her Lovely Lathers facebook page, I highly recommend it.  The other truly thoughtful option is to donate to a cause that the person loves, in their name.  Sometimes in life we just have too much crap.  Rather than struggling to figure out what else you can give a person who has everything, make a donation.  Have an animal lover?  Donate to your local shelter.  Know someone who has had experiences with rare disease?  Donate to One Breath, One Hope Inc!  I hear their CEO is hot, and also writes this amazing food blog.  Huh.
Set limits –  Jay and I do this every year.  We set limits as to what we will spend on each other in order to keep it under control.  Otherwise he knows I will spend way too much.  I admit, it's totally because of me that we do this, I've owned it.  However, I do this in some fashion with almost everyone on my list.  I have mental numbers in mind for each person.  I may go over or under a bit if I find something really great, but it at least gives you an idea of how much you are going to spend and helps you to stay on track.  If you find that your list is growing and you need to scale down a little, then you have the ability to take a little money away from here and there in order to make up for it.  The biggest thing to remember is to spend what you can, not what that person will spend on you.  This year, Jay and I have had a bit of a rough patch.  What that means is that presents will be smaller and our love and appreciation of all the support we have received will be bigger.  I'm not worried about what that means, because presents are not the reason we are seeing each other on Christmas.  Ok, maybe it is a little.  But it's not the main reason.  As long as everyone has a little something to open from us, I'm happy.  The best thing is that we all get to be together and make more of those memories that make us rich in other ways.
Give joyfully –  Don't give just because you have to.  Be happy about giving and it will show in your gift.  There is nothing worse than opening a gift and having no freaking clue what the person who gave it to you was thinking.  I've gotten some pretty rough gifts.  And each time it's because the person didn't really care.  They had to give a present because we were on their list, but all that mattered was that there was a check next to our names.  That sucks, and don't think people won't know.  They will.  If you really don't want to shop for a person at least take a minute to get them something that anyone could use, like a gift card or even something practical like new sheets or towels.  Don't get the person who doesn't ever drink a big bottle of bourbon, or the person who is allergic to nuts the box of candy that has peanuts all over the top.  The only think those kinds of gifts show are what an asshole you are.  Don't be that guy.
Make it pretty –  Half the fun in a gift is the presentation.  I will be the first to say I hate wrapping.  Mainly because I royally suck at it.  My savior during the holidays?  Gift bags, dollar store baskets and LOTS of tissue paper.  Seriously, they are the godsend for people who can't figure out how to cut the right size paper for that box.  The Christmas Tree shop has awesome packages of gift bags in tons of sizes, even your local pharmacy stores like CVS or Rite Aid have some good deals.  And of course there are always the big box stores like Target.  Put the gift in the bag, fluff up some tissue and tie a bow with some wide width ribbon and you look like you actually meant it to look that awesome.  The other totally easy thing to do is wrap within the gift you have.  Making a breakfast gift set?  Get a big mixing bowl and put everything from pancake mix to a whisk and spatula in it with some tissue paper pieces tucked in.  It will look pretty and be practical. Score!