At the holidays almost every year, we make some sort of gifts with candy.  These aren't necessarily candy that has anything to do with Christmas, but for us, it's Christmas candy because this is pretty much the only time we do them.  This year, I needed about 15 bags of a few kinds of candy in order to do presents with them.  Because of the volume, I chose to do a couple of the easiest recipes we have.  Both of these can be made pretty quickly and give you a good amount of bulk so that you only have to do a couple batches.
If you have never made candy before these two are for you.  They are extremely easy, don't have a ton of ingredients and taste great.  Take a chance and make them this year for your family and friends!
Fruit &Nut Chunky's
2 cups semi sweet chocolate chips
1/3 cup peanut butter
1 tsp. vanilla
1 cup dry roasted nuts (peanuts, almonds, etc), unsalted
1 cup raisins (or craisins)
Melt the chocolate and the peanut butter together in a double boiler, add in the remaining ingredients and stir together until well combined and coated evenly.  Spoon into small paper liners (it helps to put the liners in mini muffin cups to hold the shape).  Let them cool completely and refrigerate to harden.  These can also be frozen.   Makes about 25 pieces.
YUM!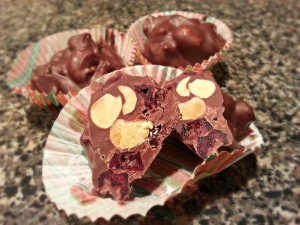 Cinnamon Sugar Nuts
1 lb. nuts, unsalted
1 tsp water
1 egg white
1 cup sugar
1 Tbsp cinnamon
1 tsp salt
Beat the water and egg white until soft peaks form.  Fold in the nuts and coat, then fold in the remaining ingredients and mix well to coat them all evenly and completely.  Spread evenly onto a well greased cookie sheet and bake at 250 degrees for an hour, turning them once halfway through.  Let them cool on the sheets and break them up with your hands before storing.
Salty/sweet heaven!