Everyone has their own traditions around the holidays, it's true.  But really, nobody does it up like the Italians!  In our family, we celebrate with the classic Italian American Feast of the Seven Fishes.  If you don't know what this is, here's a brief recap for you from the end all be all of sources…Wikipedia…
The Feast of the Seven Fishes is part of the Italian-American Christmas Eve celebration.  Today, it is a feast that typically consists of seven different seafood dishes. It originates, however, from Southern Italy, where it is known as The Vigil (La Vigilia). However, some Italian-American families have been known to celebrate with nine, eleven or thirteen different seafood dishes. This celebration commemorates the wait, the Vigilia di Natale, for the midnight birth of the baby Jesus.
We have celebrated Christmas Eve in this way, with lots of family and even more fish, for as long as I can remember.  When I was very young, we would gather in the basement level of my Aunt Rose's house, but for the most part, my memories are of having Christmas Eve at my Uncle John's house, who lives right next door to my mother.
There is a ton of work that goes into a night like this, which is mostly done by my mother and uncle.  My Uncle Johnny shops for all the fish and keeps the master list for all the things we need to make and all the recipes we need.  My mother has her tasks that she needs to do as well which consist of the stuffed clams, steamed broccolli and getting her butt over to the house next door to start frying at around 4:00.
The menu for the evening is basically this:
First Course
 Shrimp cocktail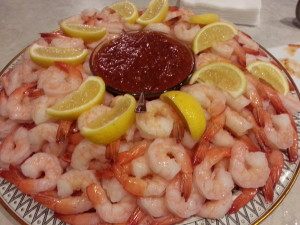 Scungilli (sliced conch)and calamari salad (with a red octopus decor that my cousin brought back from a trip to Italy just for the food this night)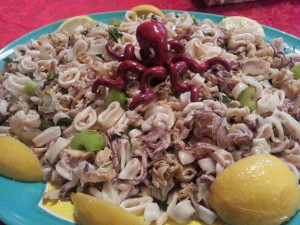 Bacala (salted cod) salad 
Saples (fried dough balls – we do three kinds – plain, mushroom, clam, and anchovy)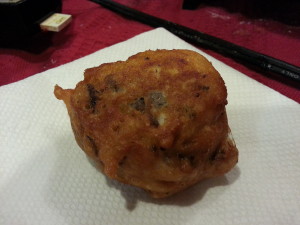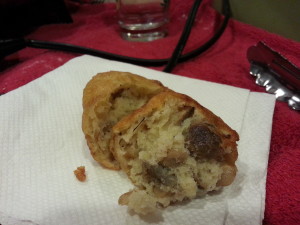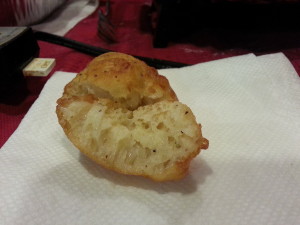 Second Course 
Bacala stew (hearty fish stew with vegetable sand potatoes in a rich red broth)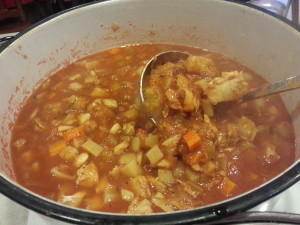 Pasta Course
Crab and Lobster red sauce with linguine (made every year by my cousin Christine and brought over on Christmas Eve)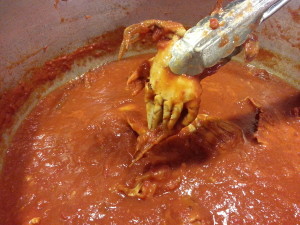 Fourth Course
Assorted fried fish (shrimp, scallops, eel, squid, smelts, and flounder)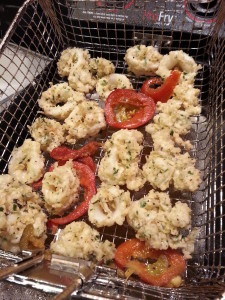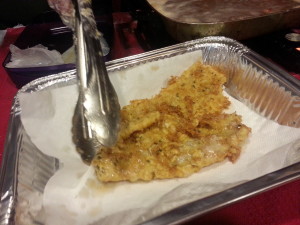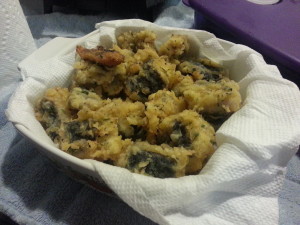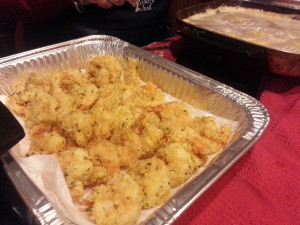 Steamed broccoli with lemon (I forgot to take a picture so this is a pretty Google picture, but ours totally looks like this)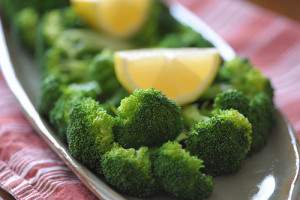 Dessert
Birthday cake (the 24th is my cousin's actual birthday so we sing and have cake), assorted cookies and/or pastries
As you can see, we have more than just seven kinds of fish, but this is the menu that we have been laying out every year for more years than I know.  Suffice to say that we have this down to a science, and now that all of us "kids" are older, it seems to take us less time than it used to because we are able to help get everything done.  Over the years, the list has been slightly altered.  We have changed amounts as people have come and gone, tweaked items here and there, but the way we cook everything, and the vast selection, has not much changed.  We are, for the most part, making the exact same food that the generations before us were making on this day.
I know for me, it makes the holiday feel like home, it makes me remember so many wonderful times, and for a few hours, I can almost tangibly feel the presence of all the beautiful spirits who have passed on sitting right there with us at the table and listening to the organized chaos of 50 people and kids gathered together to share this piece of their family history.  It's a beautiful tradition that we share with our family and friends, and even though it's a ton of work, I can't imagine it ever being any different.
So how do you do this?  How do you be Italian at Christmas?  It's easy.  There's only one step really.
Keep traditions.
There is nothing more to it than that.  If there is something that your family does that you love, keep doing it.  Don't just be a spectator in the event, you have to learn.  You can say you love Grandma's cooking all you want, but unless you find out how she does it, you aren't going to be able to make that food when she is gone.  And trust me you will miss it.  My mother and uncle learned all of this from their family and have taught it to us.  Make your kids pay attention, make them get in the kitchen with you.  If nobody learns how to carry on the legacy, then that tradition you love will not be there for long.  You have to want to do it, you have to be willing to learn, and you have to love the people that you are sharing it with because that is the most important thing.  Sharing it with people you love.
If you don't have any kind of tradition in your family. start one.  It does not have to be elaborate, it does not have to be grand.  I know some people who's tradition is just one kind of special dessert that they only have on Christmas.  That works, that's great, and that's enough.  If you want something a little bigger, find something that you love to do and ask your family to do it with you.  Maybe you decorate a gingerbread house on Christmas, maybe you make cookies, maybe you try to incorporate one new food item you love until you find something that works for you all and takes shape to become a tradition.  Whatever it is, you have to make the effort and don't give up from one year to the next.
My grandmother's generation is mostly passed on now, but the things they taught us are still here.  Every year.  We remember them.  Every year.  And we teach something to our kids.  Every year.  That's how you keep traditions, and in my family that's how you be Italian at Christmas.