For the past several years we have gone to a New Year's Eve party at a local banquet hall with a bunch of family and friends.  They have a ton of food, a DJ, open bar.  It's a great time.  However, this year we stayed in and had AC with us while his Mom went out for the holiday.  We headed over to my sister Amy's house so that AC and her kids could all play together and we could have a sleepover, which the kids were very excited about.
Another family joined us as well and we had a really nice evening that was very chill and complete with some board games and reminiscing of old times when we used to have a completely different type of house party before we all had kids!  We had some champagne at midnight, tucked some exhausted but wound up kids into bed and called it a night.  Jay and I slept on the futon in my sisters office and the kids were all asleep on the floor of their bedroom "camping out".
The next morning, we all woke up and spent a totally lazy day in our pajamas hanging out, playing together, and watching TV.  To kick off that kind of day, we made a kick ass breakfast.  Amy had bought some really beautiful challah bread when she had stopped at the store and also had a quart of leftover egg nog in the fridge that she hadn't used around the holidays.  That meant one thing…egg nog french toast.  Along with some maple brown and serve sausages and some cut up strawberries and other fruit, it was a great start to the new year.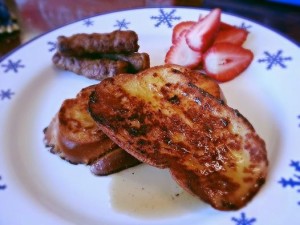 Egg Nog Challah French Toast
1 loaf of good challah bread that looks like this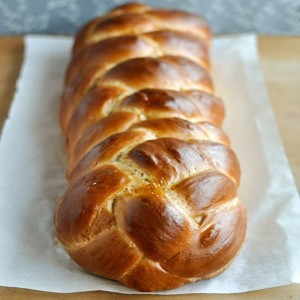 1 Qt of egg nog
3 eggs
3/4 cup brown sugar
2 tsp vanilla
few shakes of cinnamon
Slice challah into about 1/4 inch slices.  Mix all other ingredients in a 13X9 baking pan and stir well to combine.  Get a griddle pan hot and melt some butter onto the surface.  Quickly dip the challah, one piece at a time, into the egg mix and then drop onto the griddle pan.  Challah is super soft and I don't like soggy french toast, so I do not let it soak, I just lightly dip and cook, the egg will soak in, but the bread won't fall apart.  Griddle until golden brown and cooked through.  Serve with some good maple syrup and more butter!