One of the first things that most people ask when you tell them you are having a party is "What can I bring?".  For myself I know that I usually tell people to bring an app or a dessert so that I can focus on the main food for the evening.  Here are a few ways to decide what you can bring to your next event…
Make sure it's portable – Don't bring something that is hard to transport.  You want an item that can be packed up or put on a plate and is ready to go on a table.
Don't require any effort at the party – Do not bring items that need to be baked, assembled, or otherwise messed with when you get to the party.  There is nothing worse than someone showing up with an unfinished item and telling you they need your stove, oven, or counter to complete it.  I'd rather you bring nothing, don't hijack my kitchen.
Be a crowd pleaser – Stay away from crazy food items or super intricate recipes.  You want something that everyone will enjoy and if you go with that beef tongue bruscetta or the duck liver mousse, while foodies will be impressed, the vast majority of people will be turned off.  Stay on the safe side unless you know you will be in a group of adventurous eaters.
Bring what you committed to – If you said you would bring an appetizer, do that. If you said you'd bring a dessert, bring it.  Do not say that you will bring brownies and show up with guacamole and chips.  Your host most likely planned what they made around what others said they were going to bring, so stick, at least loosely, to your commitment and stay in the same type of food category so that you don't completely screw up food plans for the night.
Try this awesome take along recipe for a super delicious appetizer that everyone loves.  These squares taste amazing and also cut and transport very well.  They can be served warm or room temperature, so no need to be worried about keeping them in the oven.  Not to mention they look pretty too.  Enjoy!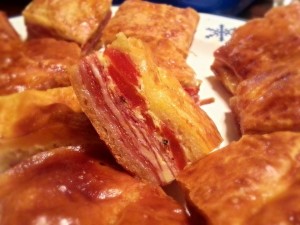 Antipasto Squares  
2 cans of crescent rolls
1/4 lb of domestic ham, sliced (rectangle shape)
1/4 lb swiss cheese, sliced
1/4 lb pepperoni, sliced
1/4 lb provalone cheese, sliced
1/4 lb genoa salami, sliced
1 jar sliced roasted peppers
3 eggs
garlic powder, salt, pepper
Spread one can of crescent rolls, in a sheet on the bottom of a greased 9"x13" pan.  Press to seal the perforations if you can't find crescent roll dough in a solid sheet.
Layer In order:
1/4 lb. of domestic ham
1/4 lb. Swiss cheese
1/4 lb. Pepperoni
1/4 lb. Provolone cheese
1/4 lb. Genoa salamiTop with jar of roasted peppers
Beat 2 eggs and add a little garlic powder, salt, and pepper and pour over the layers, spreading with your fingers if you need to.
Add the second can of crescent rolls on top and again seal perforations if the dough is not one solid sheet.
Spread 1 beaten egg over top of the crescent roll layer.Cover with foil and bake at 350 degrees for about 30 min.
Take off foil and bake about 20 min. longer to brown the top.
Cool a little and cut into squares.