I love a good Thai take out dinner.  The spice and the flavors are so unique and the veggies are so perfectly cooked, tender but still a little bite to them.  YUM.
About a year ago I found this book from a nutritionist named Christine Avanti called "Skinny Chicks Don't Eat Salads: Stop Starving, Start Eating and Losing".  I highly recommend it.  It is really amazing and has wonderful recipes for food that you actually WANT to eat.  This recipe is one of my hands down favorites.  It tastes awesome and kicks that take out craving in the ass.
It's a great spicy stir fry with awesome Thai flavors, including sriracha which I LOVE.  I do make the jasmin rice for this one because it goes so much better with the flavors of the beef.  Marinate your beef the night before in a Ziploc bag, it gives all the flavors a chance to marry and blend.  Make sure you have a large pan with lots of surface area so that you can get a good quick sear on all the meat, you don't want this to steam, you really want it to fry and then use that glaze to marry all the veggies when you add them back into the pan.  Make the full recipe, these leftovers are an awesome lunch the next day!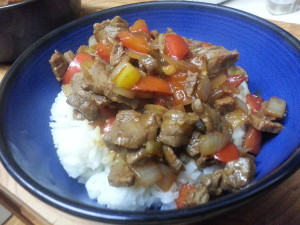 Hoisin & Siracha Beef Stir Fry
Nutritional info: 400 cals., 26 gm protein, 50 gm carbohydrates, 12 gm fat. Makes: 4 servings
Paprika
1/3 cup hoisin sauce
1 teaspoon sesame oil
1 tablespoon low sodium soy sauce
1 tablespoon hot chili sauce (Sriracha)
3-4 cloves garlic, minced
½ teaspoon freshly ground black pepper
1 teaspoon garlic salt
2 teaspoons red pepper flakes, divided
1 pound extra lean flank steak (or any other stir fry steak), sliced into approximately 1 1/2" strips or small pieces
1 large white onion
2 large bell pepper
2 cups jasmin rice
Pour 4 cups of cold water into a medium pot and bring to a boil.  Rinse rice and add to boiling water.  Reduce heat and cover.  Cook for 20 minutes.
Combine first 5 ingredients in a small bowl.  Place steak strips and marinade into a large zip lock bag and place in the refrigerator.
Dice onion and bell pepper.  Using a large wok or frying pan, spray bottom of pan with cooking spray, and small amount of a high burn point oil like canola or vegetable.  Quickly cook the onions, peppers on high heat with some salt and pepper until just crisp tender.  About 3-5 minutes.  Remove from pan and set aside.
Place the marinated steak into pan and pour in all the marinade to make a sauce.
Saute steak for about 5 minutes on high heat to get a nice brown.
Add veggie mixture to pan and continue to cook for 2 minutes together.
Serve 3/4 cup of cooked rice with  1 1/2 cups of stir fry.  Enjoy!
(based off Christine Avanit's recipe in her book "Skinny Chicks Don't Eat Salads: Stop Starving, Start Eating and Losing")