Guacamole might just be one of my favorite things on the planet.  Avocado tastes awesome and is a good fat, which means it's healthy…and so is pretty much everything else you put in it.  The chips you eat it with are another matter, but let's not focus on the bad…
We make guacamole in our family quite a bit.  It's a staple at many parties, especially in the summer, but even just on the weekends when we are hanging out at my parents the bright green dip of goodness often makes an appearance.  It never lasts very long.  My brother in law Jose and I can sit there and put away an entire bowl and not even blink an eye.  It's one of the reasons I love him…
This guac recipe is a real crowd pleaser and it's also a wonderful way to get kids (and fussy adults) to try something new.  What child won't try something that you put onto a chip.  I know AC loves his "green dip"!  Yes, that's my Christmas tree still up…don't judge me.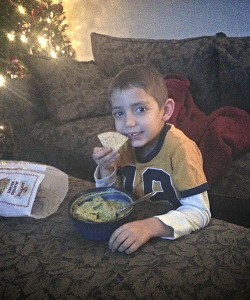 Here is a perfect recipe for a really quick guac that you can throw together in a snap.  And don't just limit this to chips.  Substitute it for mayo in your egg or chicken salad, or mix it into some egg yolks for awesome deviled eggs.  You can also top your favorite burger or chicken sandwich with some for a healthier and tastier alternative to fattier mayo or sauces.  I'm getting hungry now…
Easy Guacamole 
2 ripe avocados (you want them to give when you gently press on the firm skin, but not to be mushy)
2-3 Tbsp jarred salsa (whatever is in your fridge)
1 lime, juiced or 2 Tbsp bottled lime juice
2 Tbsp sour cream (optional)
1 Tbsp fresh chopped cilantro (optional, I hate the stuff)
salt, pepper, granulated garlic to taste (I tend to be pretty heavy handed with the garlic, so don't shy away from it)
Slice the avocado in half, working your knife around the pit in the center.  Gently twist and pull the halves apart.  If your avocado is ripe, this should be very easy.  Quickly and firmly hit your knife blade onto the seed and then twist it out.  Place the knife and seed onto a towel, hold the seed with the towel, and carefully remove the it from the blade.  Be careful if it's your first time, it is slippery and you don't want to cut yourself.  Here's a great video from the Cooking Channel on avocados that is a useful resource for the avocado virgins.
Once the seeds are removed, your avocados should have a bright green rim and look nice and greenish yellow with firm yet silky soft flesh.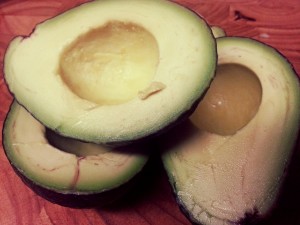 Take a large spoon and run it between the flesh and skin to remove it all.  Scoop out everything from the inside, it's all good and none should be left behind.  If you find that you have a couple brownish spots that is totally fine, don't freak out.  As long as nothing is super mushy or slimy, then you are good to go.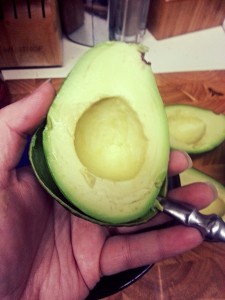 Mash up your avocado with a fork to make whatever consistency you like.  I lean towards a smoother guac, so I mash it pretty well, if you like it chunkier, that's cool too.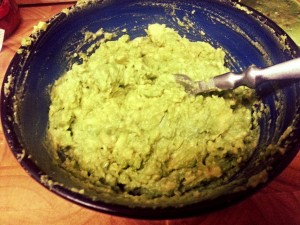 Add all the remaining ingredients to the bowl, mix it all very well, taste to make sure it is seasoned enough, and that's it!  Not everyone uses sour cream in their recipes, but I think it gives it a nice tang and creamy back note, but it's totally optional.  Die hard guac lovers will also tell you that cilantro is required, I however think cilantro tastes like soap and try to never eat the stuff if I can help it.  If you like that kind of thing, go ahead and throw it in…
And for a fun presentation, don't throw away those avocado skins!  They make great little vessels that you can put out with your chips and then just throw away.  Who doesn't love a fruit (yes it's a fruit) that comes with it's own serving bowl?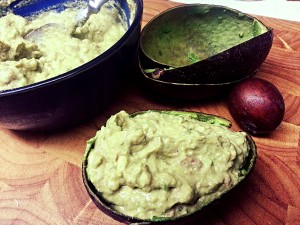 The avocado will keep for a few days in the fridge, just smooth out the top of the surface, drizzle a little more lime juice over it, and cover it with saran wrap pressing it directly on top of the guacamole, kind of like when you cover pudding to prevent a skin.  When you uncover, there will be some oxidation on the very top but when you stir everything together, it will still be a nice green.  Enjoy!