Sometimes there are mornings that you just don't have time to do much of anything but get yourself out of the door and hope you have matching shoes on,  For those mornings, a breakfast shake is one of the biggest saviors in the world.  You can buy pre-made ones, but it's so easy, and helps you to control the ingredients ,when you make them yourself.
You want a good start to the day but you also want it to taste good.  It's important to have some fresh fruit, veggies if you like those in there too, and some protein.  There are a million different recipes out there for protein shakes…pinterest, google, your local gym…they can be found everywhere.  Just pick ingredients you like and experiment.
I will admit I had never had a protein powder that I could say I actually liked until fairly recently, and I have to thank Jay for that.  He has used them forever, being an athlete in school and continuing to be a sports junkie later on.  He was really good at trial and error with different brands and flavors…some were ok, and some were just down right awful.  The one that I love, and that we use most, is a vanilla protein called EPIQ Isolate.  It's a whey protein with no artificial colors or additives and it's a fast acting protein, which Jay tells me means your body absorbs it faster.  I just like that it's not grainy and tastes like vanilla not like sawdust in a box.  The vanilla is the flavor I like  best because it goes with just about anything you want to mix it with, but they also have chocolate.  You can get it on the GNC website here, look for sales though, and if you can, get the GNC Gold card, you really get great deals with that.  We just got a new container of it today for $20 off the regular member price.  Wooohooo!
I like fruit shakes in the morning, and this is a really great time where you can use frozen berries to bulk up the consistency of your shake.  They will almost act like ice and make it thick like a milkshake.  The frozen berries are also way cheaper than fresh, especially this time of year.  I like to mix in other natural proteins like almond butter, and sweeten it a little with some agave nectar.  If you are so inclined you can also add things like chia seeds or ground flax seed which are super foods that happen to taste yummy with an almost nutty flavor.
One other thing…get an immersion blender, sometimes called a stick blender.  If you are going to make shakes regularly, this is a god send.  There is no washing out a blender constantly, it works unbelievably well, and you will find about a million other uses for it once you have it.  You have seen them if you ever watch cooking shows and can get them just about anywhere.  They are a really inexpensive piece of kitchen equipment but are super useful.  I have this exact one from Target: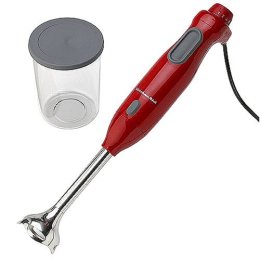 So after all that rambling, here's one of my absolute favorite protein shakes.  It fills you up, tastes yummy, and is super easy to make…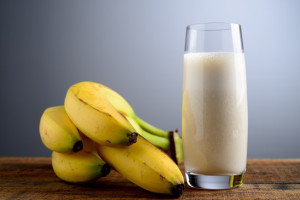 Banana Almond Butter Protein Shake
1/2 banana
1 cup fat free vanilla yogurt, I like Oikos
1 scoop vanilla protein
1/2 cup (approximately) fat free milk
1 Tbsp. natural almond butter
few ice cubes, if needed
Layer ingredients in a large cup, in order.  Blend with the immersion blender until smooth, transfer to a commuter cup if you are running out and go!