So, this post is not so much on how to make a steamed cheeseburger at home, but more on how to go to a place that makes a kick ass steamed cheeseburger.  I will admit that I never had a steamed cheeseburger until a few years ago when I went to THE iconic steamed cheeseburger joint in Meriden, CT called Ted's.  The steamed cheeseburger was invented there, and it has cemented it's reputation in the food world for sure.  It was good, really sharp cheddar, cool little steam boxes, home fries, cute ambiance.  But really, I wasn't in love.  It was just ok for me, and I wouldn't be running back to get steamed meat right away.
All of that changed last week.  Jay has been telling me about a place called K LaMay's for forever.  He would constantly assure me that it was better than Ted's and that I'd love it.  So finally when we had to kill some time before picking up AC for the weekend, we stopped for dinner.  The place is tiny, maybe 5 tables and an open counter to the stove with the steam boxes and fryers.  The girl behind the counter was super nice as was chef working the steam boxes.  Both very friendly and they were even kind enough to indulge me and let me go behind the counter for a few pictures after Jay's proud announcement that I write a "food blog" as I stood there and turned red.  He really is my biggest fan.
They have a nice wall set up of all their press, and have clearly gotten the seal of approval from both locals and beyond.  The owner of K LaMay's knows a thing or two about steamed burgers since he actually worked at Ted's.  He learned well and eventually opened his own joint doing his thing.  I quickly found out why this little place was so popular.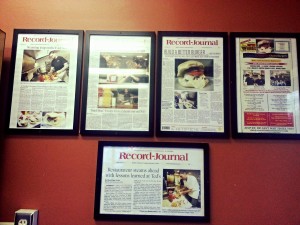 Jay and I both ordered a steamed cheeseburger with "everything" which is all of the toppings on their "free" list.  Lettuce, tomato, onion, pickles, ketchup, mustard, and mayo.  They also have some additional toppings like extra cheese and BACON but I really wanted to get the experience of the burger, so we went with the classic.  I knew we had made the right choice when this showed up at the table.  Can we talk about all that drippy cheese???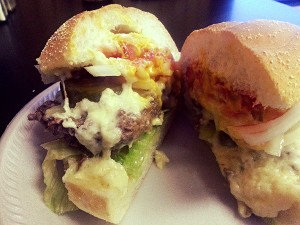 Now for those of you who don't know, the steamed cheeseburger is made in these big steam boxes that sit on the burners of a gas stove.  The small containers inside hold a water pan along with little containers that you cook the beef or melt the cheese in.  The ones at K LaMay's hold a larger patty than Ted's, 1/3 lb to be exact, and that is the first thing I noticed.  This is a BIG burger.  The boxes are really cool and you can even buy steam boxes and make these at home if you want.  They have a cooler in front where you can buy the exact Wisconsin sharp white cheddar that they use too.  It's perfect.  However, I would rather just go here and have them make me one.
We also ordered fries and onion rings and I got one of my all time favorites, cream soda.  One of the first things I noticed was how fresh the veggies were.  The lettuce and tomato were cold and crispy and a perfect contrast to the heat of the burger and molten cheese.  The white cheddar just pours and flows over the edges and gets into all the crevices of the burger.  It's like a white blanket of cheddar happiness.  It's sharp and clean and has a great texture.  All of this piled on a really sturdy kaiser roll that holds together well but gives easily when you bite into it.  It was a perfect all around bite right through the bun into the crunchy, cool veg and beyond to the rich cheese and soft, succulent meat.  SO GOOD.  The fries and the onions rings were a perfect compliment, fried golden and crunchy.  I was in heaven.  We did not speak much as we ate.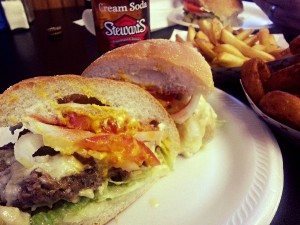 The next time you are in the area, go here.  You will not regret it.  If it happens to be in the warm weather months, you can even sit outside on the little picnic table and then slowly meander over to Les's dairy bar and get a nice soft serve for dessert.  I love little local joints like this that are doing one thing, doing it great, and making people like me happy.  Next time I may have to try the "Hot Cheese Sandwich", which is just that gooey cheddar on a bun, oh the amazingness.
So thank you to my wonderful husband who is forever teaching me about new places to go for kick ass food, thank you to K LaMay's for making said kick ass food, and thank you to the gods of sharp Wisconsin cheddar.