I love breakfast.  I know, I say that about most food in general, but breakfast food especially is one of my absolute favorite things.  I mean come on, eggs, meats, toast covered with butter…what's not to love?  Every once and a while when we were kids, we would get to have breakfast for dinner, the most common reason was because we were short on time and eggs are quick to cook, but it was also because it's just plain yummy.
This weekend I was lucky enough to procure some beautiful fresh eggs from my friend Beth's chickens in return for bringing her some stuffed jalapenos (totally fair trade), so of course all I could think about was when we could have breakfast.  Seriously, have you ever seen anything more gorgeous than a fresh egg?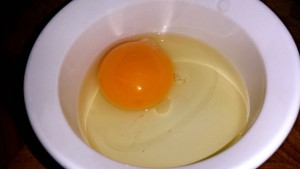 So I ask myself, why do we have to wait all week for a lazy Saturday morning when you can have them for dinner?  With this in mind, I went shopping and came across a beacon of shining light from the butcher case that manifested in the form of black pepper, thick sliced slab bacon.  I felt like the universe was speaking to me, and it was saying "make breakfast".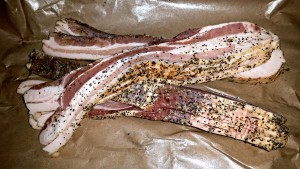 So how exactly do you make breakfast awesome enough to be called dinner?  You make pig candy.  End of story.  Tonight, I made baking powder biscuits, some beautiful scrambled fresh eggs, and candied black pepper bacon.  Now, don't get me wrong, it was all really good, but holy god that bacon.  The best part is that it's so easy it's stupid.  Take a pound of thick cut slab bacon and lay it out on a sheet tray lined with tin foil that is coated with non stick cooking spray (I went with black pepper bacon because that sweet heat is amazing, but you can do this with regular bacon as well…though it will be marginally less awesome, just sayin).  Then generously sprinkle on some brown sugar.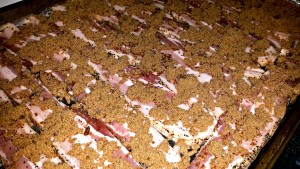 Bake it off at 400 degrees for 15 – 20 minutes.  What you get is this beautiful sticky, salty, porky goodness.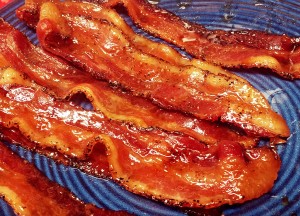 I mean seriously…just wow…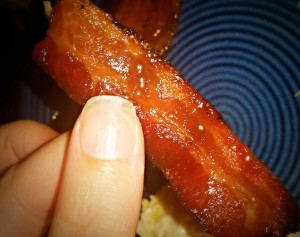 You can pair this bacon with just about anything, or just sit in the corner of your kitchen with the tray and eat it piece by piece.  I wouldn't recommend that if others are around however, because they will most definitely want to take some away from you, and that could cause a scuffle, which could then result in the bacon being harmed.  Not worth the risk.
Instead, make some bright yellow scrambled eggs, some fluffy and rich baking powder biscuits (very easy, basic recipe here) and share it with some one you really, really love.  Or at least someone who really, really loves pig candy.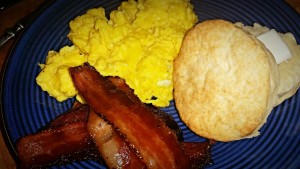 Breakfast for dinner…DONE…