Almost every weekend, at some point, we find ourselves at my parents house.  In the fall and winter, it is most often Sundays.  We head over after church and my sisters generally do the same.  We eat, the kids play, we watch football, and get to catch up on the week.  This weekend, my parents are in Florida visiting some friends, and so we wouldn't have gone over.  Or so we thought.  After doing some errands and such in the town where they live, we said we could head home.  AC was very confused and said "What about Grammy and Poppy's?"  So I told him again that they weren't home and that we were going to go back to our house.  He didn't care, he wanted to go over to their house…his actual response was "WHAT?!?!"  I'm not sure if he thought that his cousins would come over anyway, or if he just wanted to be in that house where we usually are on the weekends, but either way we indulged him and went over with nobody there but us.
I had told him the day before that we could make cookies, and of course he had not forgotten.  Since my mother always has things like sugar, flour and butter in the house (pretty much all you need for some sugar cookies) I got everything ready while he played for a little while and Jay turned on some college football.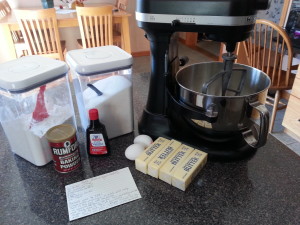 As I mixed the butter and sugar in the Kitchen Aid and helped him crack the eggs he started to really get into it.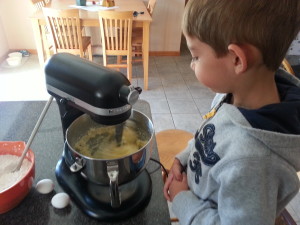 Of course this was not as exciting as the prospect of decorating the cookies.  That was what he was really looking forward to.  He helped mix the dry ingredients, and watched as I dumped everything out onto the counter and kneaded it into a nice ball of dough.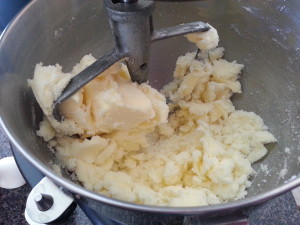 I cut off a small piece of dough for him to flour and cut himself and as I was rolling out the first piece with my mothers rolling pin, suddenly, he looked at me and said "You're really good a that, how do you know how to do that?"  I'm not going to lie, I got a little misty eyed and told him that I know how because Grammy taught me, and her Mommy taught her, and now I was teaching him.  To which he said "Oh, cool." and that was that.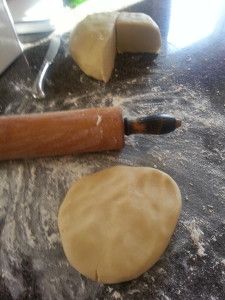 As he added more and more flour to his dough and then cut out an apple, which I thought looked like a pumpkin, but was told emphatically that NO it was an apple, I continued to roll and cut out the other cookies and add them to the baking sheets.  He helped now and then cutting out the shapes, but was generally happy to play on the other side of the counter.  I was told a few times that I was doing a good job and asked how long it would take for them to cool after we bake them.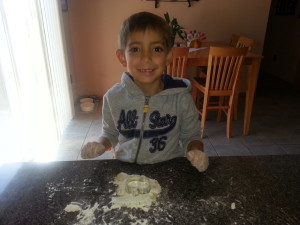 After they all were baked and cooled and ready to decorate he was just about going to jump out of his skin.  We dipped them in warm frosting and sprinkled them with some fall candy shots.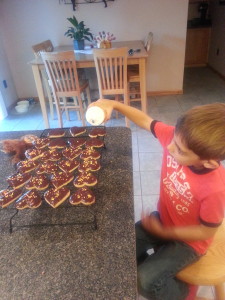 We let them dry, packed them into some bags, left a plate of them out for Grammy and Poppy for when they got home and headed back to our house as he softly snored in his car seat.  The day was a success, partly because we were in a house that reverberates with the love of my family, but also because we had spent some great time together over food.
Baking in general is an easy way to get kids in the kitchen, they can easily help, and learn.  Here are a few ways to get you started along with our soft baked sugar cookie recipe!
Don't worry about a mess –  Baking is messy, there is flour and butter and sticky things and it's not necessarily a neat process.  Add kids to the mix and you can have a potential gluten explosion.  Don't sweat it.  Flour gets cleaned up, butter will come out of your hair eventually, and that sugar that fell down your shirt can be found later by your husband.  The most important thing is having fun and teaching them to be creative.
Let them help – There is a difference between you wanting them to watch you do it and you letting them help you do it.  Help them crack some eggs, let them pour in the vanilla, mix the dry ingredients and help you to read the recipe if they are old enough.  The more you let them do, the more they will understand and be able to remember for the next time, and eventually do on their own someday.
Let go of the typical "pretty" outcome – If you were banking on the outcome of these things being beautiful creations, you may be disappointed.  They will be works of art for sure, but that is because they will represent time spent together, and playful dumps of sprinkles and sanding sugar.  It's ok, they will still taste great and when you see the huge smiles on the kids faces as they show you their sugar cookie or cupcake creation, you won't care.
Have fun – In the end this is what it's all about.  Showing them that being in the kitchen is a good time, teaching them a life skill, and helping them understand that we don't always have to buy those cookies from the store.
AC and M's Soft Baked Sugar Cookies
1 lb of butter, softened 2 1/2 c. sugar 2 eggs 3 tsp vanilla extract 4 tsp baking powder 1 tsp salt 6 c. all purpose flour
Cream together the butter and sugar until light in color and fluffy.  Add in the eggs, one at a time, and the vanilla and mix well.  Scrape down the side of the bowl as needed.
In a separate bowl, mix together the dry ingredients.  Add them slowly to the wet and mix until a firm dough forms.
Dump out onto a well floured surface and kneed the dough together into a nice ball forms.  The dough will be pliable and soft yet not sticky.  Cut into 4 parts and roll out to about 1/4 inch in thickness.  Cut with cookie cutters and line on a greased baking sheet.
Bake at 350 for 8-9 minutes or until they are just very slightly brown on the bottom edges.  Let them cool on the baking sheets for a couple minutes until they are firm enough to transfer to wire racks and cool completely.
Once cooled, decorate with your favorite frosting, sprinkles, candies, and have FUN!