Sooooooo…yeah, it might be a little late to talk about St. Patrick's Day but cut me some slack.  Two of the most fabulous women I know just popped out two of the most beautiful baby boys, my rock star cousin turned 30 and I bought a brand new bedroom set and mattress, the set which we had to assemble ourselves 'cause we had the bright idea of getting it from IKEA.  When you buy furniture there I love it in the showroom and you almost forget that you have to put it together…til you get it home and there are no furniture fairies.   I think there should be a disclaimer on the box.  "Does not come with furniture fairy assembly option".  Needless to say I've been a little pre-occupied…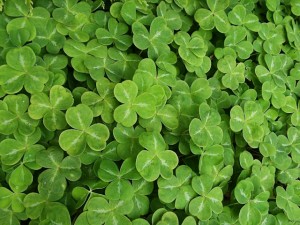 HOWEVER, I could not let this day go by without the mention of it, or at least a recipe…so here we go with both…
Being half Irish, we of course celebrate St. Patrick's Day.  Our family tradition is to go into downtown New Haven for the parade which is always the Sunday before the actual holiday.  We watch bands and radio stations and baton throwers at the parade from the same street corner we have since as long as I can remember, no matter how cold or how inclement the weather.  This year happened to be lovely and many of us were actually taking off our coats and enjoying the nice weather without the need of booze to combat the cold for once!  We then head over to a local nightclub called Toads Place that, for this day every year, hosts a traditional Irish band called the Tipperary Knights.  They are great and play a lot of traditional Irish music and have a blast with the crowd.  It's a very family friendly environment and the kids were running around playing with some blown up balloons and dancing.  AC was on cloud nine, running around like a mad man and dancing with everyone.  The kid loves music more than any 18 month old I have ever seen so this was right up his alley.  My sister at that time was counting the days (2 to be exact) until she was having her second boy and her first son LJ was enjoying the festivities along with the rest of the family.  We have some great big corned beef sandwiches that a local caterer provides that day and drink some beer and shots and in general enjoy ourselves.  We then head off to my parents house and cap off the night with some amazing brick oven pizza from a local joint in New Haven called Modern.  Now, there is much to be said about brick oven pizza, so I won't digress here but rather leave that to a future post.  It's a wonderful day full of family and music and good fun.
Now the actual day of St. Patrick's Day is my cousin's birthday.  The poor girl every year of her life has corned beef and cabbage on her birthday.  We head over to my Uncle's house and have dinner and cake and sing happy birthday and its a great way to spend a night.   This year however, she took matters into her own hands and vetoed the corned beef.  She has in the past few years become a vegetarian and very health conscious.  I totally admire her ability to stick with this choice and really make a lifestyle change that took a lot of work and a lot of determination.  Needless to say she has also lost a ton of weight and looks amazing.  Although I do think that a certain love in her life might have something to do with her glow.  So this year we had a night of all food that was green.  It was a very eclectic gathering of foods and I for one loved it all.  Of course I love food in general so that's not a big stretch.  We had everything from sauteed broccoli raabs to saag paneer, which is a traditional Indian dish (more to come on Indian food posts too).  I made some cupcakes with lovely green fresh astromeria flowers on top and the night was capped off with a family board game around the table.  Yes we play games and yes we look like total fools half the time, but you should absolutely try it, you will be happy you did.
In general as I'm sure you can see we never need much of a reason to get together and celebrate with food and drink and lots of laughter.  We are a family that truly enjoys each others company and these types of holidays are just one more reason to get together and spend some quality time with our friends that happen to share some of the same genes.
Now for the recipe…
My mother made for the evening of the 17th one item that was NOT green.  It was brown.  Traditional Irish brown bread, and it was freaking fabulous.  She mated two of our old family recipes for the brown bread and came up with a recipe of her own that was moist and dense and absolutely perfect.  It was sweet and savory, and with a little butter was a slice of beautiful, hearty, molassasy goodness.  Brown bread is such a multi functional bread and really goes with anything.  It can pair well with some rich savory stew to soak up the nice thick sauce or it can shine as well with some nice fruit preserves and a cup of tea for breakfast.  It's like a superfood.  I've heard that some people even bring it to the movies to snack on instead of popcorn and raisinets.  I wouldn't recommend it though, popcorn rocks.  Here below is the hybrid recipe that my Mom put together.  I hope you love it as much as I do…give it a try if you have never had brown bread, and if you have had it before, this will quickly become your favorite recipe for it.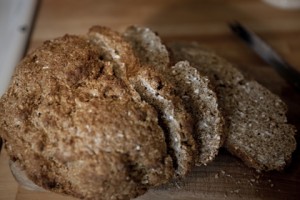 Mom Kelly's Brown Bread Recipe
3 cups wheat flour
1 cup all purpose flour
1 tsp. baking soda
1/4 cup brown sugar
1/4 cup white granulated sugar
1 Tbsp. salt
2 large eggs
1 1/2 cups buttermilk
In a large bowl, mix all the dry ingredients together until well blended.  In a separate bowl, mix the eggs and the buttermilk.  Make a well in the dry ingredients and pour in the wet ingredients.  Mix them together with a spoon until all ingredients are incorporated (your hands really work best here).  It is important to not over work this batter, once it is all combined, stop mixing.  This is a very thick batter that it more the consistency of a biscuit dough.  Place the dough into a greased pie plate and spread the batter just out enough to cover the bottom of the plate.
Bake at 375 degrees for 35-40 minutes or until the top is brown and the bread sounds hollow when you knock on the top (I'm not kidding, it works).  Cool for 10 minutes in the pie plate, then remove and cool completely before slicing and enjoying.
I however can never let the whole damn thing cool all the way before I cut a piece and slather on some butter so it melts into the little crooks in the bread.  Heaven I tell you, is here on earth for us to enjoy in little pieces and glances of happiness like this.
Enjoy!