Day two and three here in Nashville have been just amazing!  Yesterday we got up bright and early, partly because we are still operating on our work schedule wake-ups, and partly because we were so excited to get started doing all the things we had planned for the day.  We had decided, on the recommendation of our fabulous new friend at the front desk, to head over to a local breakfast joint called The Pancake Pantry.  It is a small restaurant that is famous for pancakes but also serves a ton of sandwiches as well.  The neighborhood is completely charming and very vibrant, being so close to Vanderbilt University, with used book stores and funky stationary and knick knack shops.  The Pancake Pantry sits on the corner of the block and you will walk by the front door if you don't know it's there, until you see the sign on the building on the opposite side.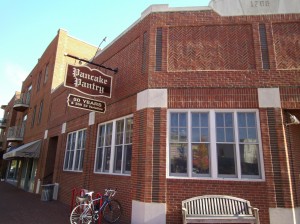 They tout the fact that there is always a line, no matter when you go, and we found that to be true.  However, this place is a machine…they turn tables faster than anyplace I have seen and we waited no longer than 5 minutes to be seated.  The restaurant itself is very open and airy and has friendly wait staff and bussers busily flitting from table to table.  You are seated and given a wonderfully diverse menu with several pancake options as well as sandwiches for lunch.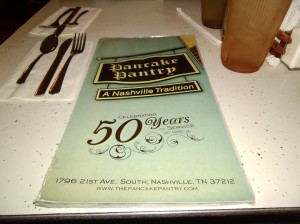 As Jay and I sat there debating about what to get, the waitress delivered huge glasses of juice and warmed up the coffee at least twice.  I decided to go with what I thought might be the most interesting item on the menu:
"Village Smithy Sante Fe Cornmeal Pancakes
Recipe acquired from the Village Smithy restaurant in
Carbondale, Colorado. Three stone-ground cornmeal pancakes
with chunks of bacon, Cheddar cheese, and roasted green
chiles cooked inside. Recommended with maple syrup,
hot picante salsa, and sour cream."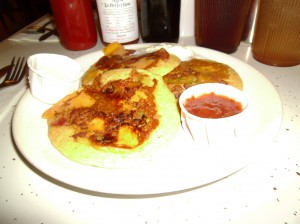 It's a corn cake, so basically think of cornbread batter made thinner and griddled like a pancake.  This was basically what I deem as a lunch pancake.  It was a perfect balance of sweet and savory with that nice crunch from the corn cake and to balance the sweetness of the batter, add that salty crispy bacon, and throw in some cheddar that has been made a little crunchy at the ends from the griddle….YUMMM…I did take their advice and add the sour cream, salsa and syrup and OMG it was too good.  These people know what they are doing.  It was crazy filling since the corncakes are pretty dense but so so so satisfying.  The green chilies really made the whole thing come together and I can totally see myself making these again at home.
Jay also got a really great breakfast called "Grill Cook's Medley" and it sure is that:
"One of our best sellers! Mounds of hash browns
with onions, green peppers, tomatoes, and ham, all grilled
up crisp. Add to that: melted American and Swiss cheeses
with two fried eggs on top. Just break the yolks
and spread picante sauce all over.
Medley with wheat toast and
two buttermilk pancakes"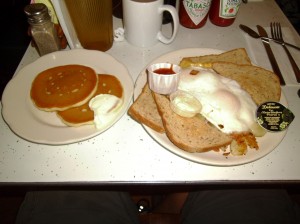 For me, from the one bite I got of his breakfast, the cheese was the kicker.  It really melded the ingredients together, and Jay added some hot sauce which was a great choice.  The regular pancakes that came with this were also fabulous, they were light and fluffy and for the first time EVER I think, they tasted reminiscent of my father's pancakes.  I know, it's a big step to say that, but it was the first thought that came to me when I ate it.
We paid the bill, got a very friendly thank you from our waitress, bought some swag (yes Amy you have a shirt from here), and headed out the door totally happy and ready to get to the rest of the day's activities.  The next stop on the agenda was the famous Belle Meade Plantation in Nashville that was only about 10 minutes away.  As we drove into the gates we were treated to an absolutely stunning landscape that was in full autumn leaf colors and a house that was almost unreal.  Then we saw something we were not prepared for.  The Swaggin Wagon from the Ellen Degeneres show!  We quickly learned that Ellen herself was not here, but that her team was in Nashville doing a special and had heard of Belle Meade and decided to stop by.  We saw them from a distance and I did manage to keep Jay from running in front of the camera. The show will be airing this Thursday, 11/10/11.
I had read about the plantation a bit before we showed up, but I was still amazed by just how pretty it was.  The story is a sad one of a very wealthy and successful entrepreneur who bred race horses and had very successful studs, even in racing today, the bloodlines are still present and still winners.  Unfortunately with the stock market crash and the subsequent temperance movement, the family lost the property and all it contained.  It is very beautifully restored with almost all of the original artwork and antiques, it is just beautiful.  In the past couple years they have also started a winery and your tour includes a tasting at the end.  They had some good young wines, mostly sweet, but there was one that tasted like nothing I had ever had.  It was a blackberry wine and you could taste the berries like they were just pulled from the bush.  It was sweet and very very different, but I loved it and bought 2 bottles to take home.
Once we had walked ourselves hungry again through the meadows and gardens, we decided it was time for a burger.  Again, on the recommendation of our local food guru, we headed to a place called simply Burger Up.  This place was fabulous.  It's a restaurant dedicated to sustainable food production and humane treatment of animals on the farms they get their meat from.  It's definitely an upscale burger joint, with things on the menu like truffle fries and fried oysters, but it totally rocks.  For our appetizer, we felt that we couldn't pass up on the fried pickle chips.  We were right.  they came to the table a perfect golden brown from a very light batter and quick fry.  Served with a buttermilk ranch dip, they were to die for.  The pickle itself, I think was made in house, since it was still so firm and you could really taste the cucumber flavor that wasn't overpowered by vinegar and spices.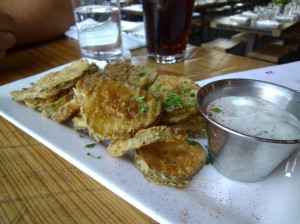 For my burger, I chose their Ramsay Pimento Cheese Burger, which has house made pimento cheese (which in it's basic form is cheddar, mayo, and pimento peppers all mixed together) pickles, red onion, and bibb lettuce.  First, let's talk about the beef.  Juicy, tender, and seasoned perfectly with just a bit of salt before it was grilled.  You really tasted the beef and nothing overwhelmed it too much.  The bun was a very soft yeast roll that held up nicely to the lettuce and cheese.  One bite through all the components and they had me.  I'd live at this place if we were closer.  Now, what is a burger without fries?  For me, I HAD to get the truffle fries, which are their regular hand cut fries, but with truffle oil drizzled over them after cooking.  The potato gods were smiling down on Burger Up when they pulled this one off.  The earthy truffle and the hot soft potato were like nectar of the gods.  The course sea salt that they have dusted all over them didn't hurt either and I could literally not stop eating them, even after I was full.  The condiments are also all house made with a honey mustard aioli and a spicy tomato ketchup.  The mustard was light and mildly tangy, a good compliment to the fries, but the ketchup rocked.  You tasted nothing but fresh tomato, and as Jay said it almost was like a fresh sauce.  They don't share their recipe of course, but I tasted a bit of sugar, worcestershire sauce and some hot pepper along with those pureed tomatoes.  Great for dipping. If you have a chance to stop at this place I highly recommend it, and take the time to read the back of their menu, it's inspiring and it makes you want to jump on the sustainable food band wagon for sure.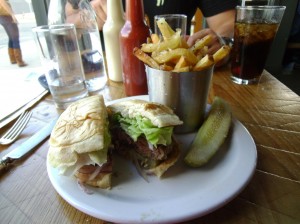 As we paid the bill and got ready to leave, we decided that we just had to stop next door to Burger Up at a local popsicle joint that we had seen on Food Network and also read about.  It's called Las Paletas and they have some kick ass popsicles.  Never thought I would get so excited about a popsicle, but they were awesome.  I went with their creamy variety, and decided on a mexican caramel bar.  It was made with goats milk and was super creamy and sweet.  I think people who take something so freaking simple like popsicles and make them so wonderful are real geniuses.  Simplicity wins every day.
Jay and I headed home and at our popsicles on the road.  We were pretty exhausted and decided to just hang in the hotel room that night and get a movie.  We did head down to the hotel bar and grabbed a little something to eat and chatted a bit.  We went to bed eventually and couldn't wait to see what new things we would do tomorrow!  More to come…
http://www.thepancakepantry.com/
http://www.yelp.com/biz/las-paletas-gourmet-popsicles-nashville
http://www.bellemeadeplantation.com/