Lazy southern days might just be the best so far.  Our last full day here in Savannah was just that, lazy.  We woke up and had breakfast in the hotel with some regular morning fare.  We had then decided that we wanted to spend some time down at the Riverwalk since we had not made it over there yet.  As we walked out of the hotel we couldn't help but notice the completely fabulous weather today.  It was blue skies and mid 70s with a nice breeze.  Just perfect.  We walked the few blocks down to the main road by the water and made our way down.  In Savannah, the area that is right on the water is about 25 feet lower than the main land, if you can picture a plateau above and then another level below that is water level, that is kind of what it looks like.  There are staircases to walk down and and curved hills for cars at each block.  We walked down one of the many set of stairs that are old and stone and pretty steep…all I could think of was that my mother would never make it because you could see straight down the wall on the side of the staircase and it was a bit disconcerting for those who don't love heights.  Once you get down to the river though it is about 12 blocks of shops and restaurants and places to buy tour tickets.  It is very busy and very pretty with old cobblestone streets and little benches and courtyards on the water to just sit and enjoy the area.
We did some shopping and ended up getting tickets to a one hour riverboat cruise for the afternoon.  We had some time before we had to board the boat so we kept walking down the strip and ended up at 2 market areas that had a little vendor outside in a courtyard that sold drinks and hot dogs and snacky type things.  We sat down for a while at one of the tables enjoying the water and the weather, and then decided to get a bite to eat before we had to go on the boat.  Jay headed over to the small vendor and found out that they had Chicago style hot dogs!  Score!  We both ordered one and were pleasantly surprised.  It was a real Chicago dog, complete with the neon green relish and celery salt.  It was perfect to hold us over to dinner and we sat and soaked up the wonderful sun before we went to the dock.  The tour was a very nice ride up and down the river and the guide talked about the Savannah port and the businesses and history around it.  All in all a nice way to spend an hour on the water.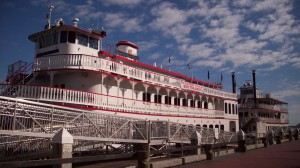 Once we got off our tour we decided to return to the hotel for a bit before dinner and change.  Yesterday, while walking back from the street fair, we passed by one of the places that my Aunt Barbara and Uncle Dick had found while they diligently searched the internet for great places for us to go on this trip.  It is called Alligator Soul.  Now, the name itself begs for you to go see it, but the menu posted on the wall made us want to go even more.  I called and made us a reservation and off we went.  It was nice to get a little dressed up and go out, it was almost a little reminder that this is our honeymoon and is really very romantic and exciting to be doing all of this traveling together.  W are very lucky.  When we got there we were pleasantly surprised.  It is in the basement level of a building, so you walk down some stairs to the door.  When you walk in, there is a lovely wood bar to the left and a small hostess station to the right.  Next to the bar there is a cozy sitting area with a few couches, through a large opening, there is the entrance to the where the tables are.  The place is not huge, maybe 30 tables or so, but it's very warm and welcoming with soft lighting and a lot of stone and wood.  You would find places that look very similar in Ireland and England I would imagine.
As soon as we sat down I liked the place.  At our table was a small white box with a note on the top that read "Happy Honeymoon!  We hope you have a lovely evening!".  Inside were two little pecan tartlets.  Totally classy move.  The hostess had asked if we were visiting for a special occasion when I had called for the reservations and I had told her, but who would have thought this would be there for us.  When the server came to our table, she was super friendly and very knowledgeable about the menu.  She also rattled off the specials without hesitation.  Jay and I both ordered appetizers.  I got the fried green tomatoes, cause I'm thinking they are becoming something of an addiction for me, and Jay got the special which was a craw fish and andouie sausage cake (almost like a crab cake).  The tomatoes came with this beautiful peppadew pepper relish and was tangy and spicy and very very good.  Jay's was also great with the sausage adding some spice, and the peach chutney on top adding that sweet kick.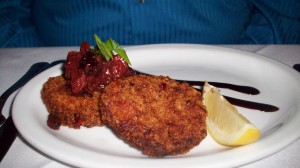 Now, for dinner, we had quite a choice.  There were about 5 specials and they all sounded fabulous.  However, I could NOT pass up one of them.  Wild boar tenderloin with a porcini mushroom bread pudding, and a cauliflower and truffle puree.  Yeah, I'm all over that.  Jay went with the fish of the day which was striped bass (basted in duck fat) with a roasted onion quinoa and a red cabbage, apple, and cranberry slaw.  We couldn't wait!  I also ordered, on the suggestion of our wonderful waitress, a glass of Campus Red Zinfandel.  I wanted something that was not too overpowering but was still a red that could stand up to the flavors of the boar.  It was perfect.  It had hints of dark berries like cherry and raspberry and finished very clean with little aftertaste that I sometimes don't like with heavy reds.  As we sat and chatted and people watched we enjoyed the atmosphere and each other.  Our dishes were brought out and I was drooling.
Wild Boar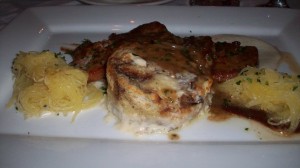 Striped Bass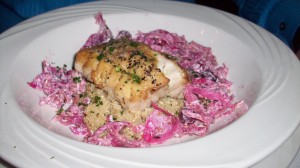 My dish was a perfect execution of mushrooms all around.  From the porcini bread pudding, that was pretty much like the best stuffing ever, with big pieces of mushroom wrapped around cubes of moist bread soaked in custard totally rocked.  It was very firm and not at all soggy (I hate soggy bread pudding).  Savory bread puddings aren't always pulled off successfully, but this one nailed it.  It paired really well with the rich demi glace on the sauteed boar tenderloin.  Now, the coup de grace of the whole thing was the cauliflower and truffle puree.  There was a sweep of it right by the meat so that you could create the perfect bite of bread pudding, boar, and swipe up some of the creamy white goodness at the end.  Pure genius.  The truffle was not overwhelming but rather made this burst of mushroom flavor in your mouth that complimented the meaty boar so, so well.  It left you with this velvety mouth feel and earthy meaty flavor resonating throughout your pallet.  It was also served with two little piles of spaghetti squash, which were perfectly cooked and very good but could have been dancing bears for all I cared.  The mushroom madness that was created on my plate had me totally mesmerized.  This was the best dish of the trip so far.  No question.  I don't mean to down play any of the food we have had to this point, but this was complex and deep and rich and really as perfect as you can get and totally another level.  For Jay's part, he said the cole slaw was the best he has ever had.  Anywhere (that's big).  He also said the fish was cooked perfectly and you could taste that slightly smoky flavor of the duck fat along with the onion quinoa.
We were stuffed and decided to order dessert to go.  The Jets were playing the Patriots tonight after all and we HAD to watch it.  We ordered a vanilla bean creme brulee with savannah honey, and some banana beignets.  We havent had them yet, they are siting on our hotel room desk but we will break into them soon.  I'm sure they will be just as amazing as the dinner.  Our last night here in Savannah was a complete success.  As we strolled back to the hotel, we chatted about how much we really enjoyed our time here.  Savannah is a beautiful southern city with true southern hospitality and a leisurely southern pace.  I can't think of a better place to come visit.  When we leave tomorrow to head off to New Orleans, we will leave with very happy memories here and the knowledge that we will be returning again for sure.