The past three months of my life have been a blur.  I know people say that all the time but I literally can't remember how we got here.  It's been a whirlwind of packing and boxes and LOTS of trash bags.  But in the end we are moved out of our old house and into a new one and we love the new town we find ourselves in.  Jay and I lived for the past 4 years or so in the house that was my grandparents, but after they died turned into a "half way" house as my parents like to call it.  Almost all of the grandkids have lived there at one point or another.  During college when we were poor, after college when we were really poor, or sometimes just because it was convenient…the house has seen a lot of use, and a lot of things that my grandparents would never have approved of!  We have tried a few times over the years to sell it but it hasn't worked out for one reason or another.  This last time, my mother and my uncle decided to really give it some effort and it seems to be panning out.  As I write this, the sale is pending and we all have our fingers crossed.
In the mean time, an opportunity to move kind of fell in our laps.  We had been thinking of relocating for a little while, the house was great for us, but the location wasn't.  It was out of the way for Jay to work and for church and pretty much most things we did, except my office.  Bonus for me, I never had to hop on the highway and filled my gas tank once ever y 2 weeks or so.  However, Jay's truck was sucking down gas and money with it.  So when a friend at the office had mentioned that they were going to be renting a condo, I jumped on it.  The location was much better for us, we are just about 15-20 minutes to everyone in the family, to Jays work, and to church.  I do have to get on the highway to get to the office now, but I'm able to work from home 2 days a week so it all balances out.  We also moved from the city to the suburbs.  There are woods in back of the condos, the Linear Trail, which is a walking and biking trail, is just down the road, and it's very quiet at night…except for the bugs.
We eventually packed up all our crap, threw out more than I ever thought possible, and in a couple trips with the trucks and a day with the movers, we are in the new digs and settling down pretty well.  There are no longer cardboard pieces everywhere, I have towels in the closet, and some pictures on the wall.  It's starting to feel like home.
So now that we are in this new little town, naturally the first thing we ask is "Where are the good places to eat!?!"  Gratefully, our friends steered us over to a tiny place on the main strip.  It's about 5 minutes from the house and is called C.J. Sparrow Pub and Eatery.  We met them there for dinner one night as they were graciously welcoming us to the area, and had a great meal.  The place fits in perfectly with my friend Guy Fieri's Diners, Drive ins, and Dives show.  It's this small joint in a little plaza of stores with a very unassuming sign, you really probably wouldn't even stop to come here unless you knew about it.  Parking is in the back of the building and the entrance leads you into the bar, which then wraps all the way around into the dining room.  The place is small, maybe 10 tables, plus a small patio and the long curved bar with seating too.  But don't let the size fool you, these guys have their hands in everything.  Trivia nights, open mic, local bands, happy hour…the list goes on.  When you walk in you get the feeling that maybe you have stumbled into an episode of "Cheers" and that Ted Danson will come out at any point to pour beer from the tap and give you some advice on love and life.  Instead, what you do get are a great staff that seem to love their jobs, are always smiling, and a clientele that all know each other by name.  People sit at the bar with a drink and greet each other when they walk in the doors or smile in welcome at the people they might not know, yet (which were us).  It's a TRUE neighborhood place and I think the locals try to keep it quiet so that people out of town don't find out how rock star the food is and come ruining their favorite spot.
After our first visit, where we met half the town, who came in and said hello to our friends we were eating with,  Jay and I knew we would be repeat customers…the food was great.  So when we were looking to tame a burger itch last night, we decided to hit up "Sparrows" as it's fondly called.  What we had this time was out of the realm of the fabulous.  Let me first start by saying we were starving.  It was a little late when I got home from work, we had both had lunch earlier than usual that day and my flip flop had started to look appetizing as I was driving home.  So we definitely knew we were going to get an appetizer.  We looked over the menu, still new to us, and a great length for this kind of place.  There is everything from seared Ahi to steak and cheese but not so many choices that they can't keep everything made fresh and quickly turned out in the kitchen.   Smart owners.
The thing that caught our eye this time was the Fried Smoked Gouda.  The description in the menu is very succinct, "Fried Smoked Gouda with creamy bacon tomato sauce".  It's enough to tell you exactly what it is.  What is doesn't say is that you will want them to fill a bathtub with the sauce so you can just swim in it for the good part of a week.  What comes to the table is a generously thick cut from a wheel of smoked Gouda cheese, sliced in half to form two half moons, coated in panko and fried to a quite perfect golden brown.  The bottom of the plate is coated in the slightly pink sauce with little ribbons of cooked bacon running through it.  They also throw just a bit over the top, and the bacon almost looks like little bows on the crunchy cheese package.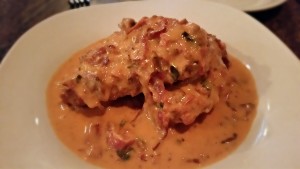 We each took a piece; I cut into mine, swiped up a healthy dose of the sauce and bacon, and put it to my lips.  All conversation stopped save for the "Oh my GOD" that came after the first bite.  Jay finds me quite amusing when I have these overwhelmingly unladylike foodgasms and he mercifully just let me savor the little ripples of pleasure that were rolling over my tongue.  This was a perfect symphony of savory and sweet and salty and crunchy and smooth and smoky…good god there are not enough words.  The Gouda was soft but still firm and doesn't ooze like mozzarella does, but keeps its form and maintains a ridiculously creamy texture with that hint of smoke around the ends.  The tomato sauce was silky and salty and the bacon married so well with the cream, it was genius and like nothing I have ever had.  This was not your ordinary fried cheese.  After polishing it off and restraining myself from licking the plate, I had to hold back from leaping from the table and storming into the tiny kitchen to find out the secrets that lived there.  I had found panko crusted perfection.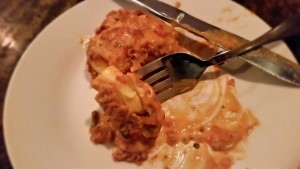 After the cheese episode where I had my pleasure black out…we had our burgers which were just as awesome as they were the last time.  They use angus beef, make their own patties, and cook them perfectly to your taste.  Jay is able to get a true rare burger here, which hardly ever happens anymore.  He got the special burger for the night which was a burger rubbed with a Carolina dry rub and then topped with two kinds of cheese and cole slaw.  I went with the smokehouse burger that had swiss, mushrooms, super thin little fried onion straws and a creamy steak sauce.  Both of them were fabulous and juicy and a little charred by the grill, yum.  We weren't sure if we wanted dessert after all that food but when she ran down the list, the bourbon pecan pie rung home and we got it warmed with a little vanilla bean ice cream.  You could taste the slight hint of bourbon and the pie was not so cloyingly sweet as many of its kind can be.  Even though Jay doesn't like pecan pie much it didn't take us long to finidh it off!
As we rolled ourselves out the door and back home to fall into a food coma I kept thinking how nice it was to have a local bar like that.  It makes the town feel so welcoming, it makes me happy to know that we could go at any time and have a really good meal among friendly people who love the food too.  They were genuinely happy to see you sitting at their table, and take the time to say hello and to make sure you have a great night with them.  The atmosphere there is not so much built by the space or the décor but by good people, eating good food, having a few drinks and supporting a local business that they love.  I'm looking forward to many more amazing meals here…