Hello, my name is Meghan, and I'm a Pinterest addict.  I can't help it; it's like thumbing through all my favorite magazines at one time, in one place.  The bombardment of awesome projects and recipes that I will never do is transfixing and I find myself going back for more and more.  I have boards, I share on Facebook, and I save images to text to my friends.  It's becoming a real problem.  HOWEVER, if you are able to weed through the crap, they have some really great stuff out there.
So a couple months ago when we were planning a brunch for Mother's Day, I went to my Pinterest boards and decided to put a few of the recipes to the test.  Now, I'm not going to recommend that you try every recipe or idea that you see out there, some of them are insane and quite frankly, not worth the effort.  They are for Stepford wives who have perfect hair, beautiful houses, clean children, and nothing to do all day but bake pies and make artwork out of yarn and paperclips.  The rest of us need to filter.  I do take pity on the new cook or do-it-yourselfer because Pinterest will have you thinking you can do it all.  Do not be fooled.  Those of us, who know better, can pretty easily decide which pins to keep in our "Nice to Look At, But No F'ing Way" board as opposed to the "This One Might Work" board.
Brunch is one of my favorite events to plan.  Where else can you have breakfast and lunch all together at one time unless you are at your favorite 24 hour diner.  It's fun to play around with a menu that can have anything from sweet and savory dishes, to fruits and baked goods.  You also get Mimosa's and Bellini's…who doesn't feel happy when you get to have champagne?  If Bloody Mary's are more your thing, go for it…Vodka makes me happy too, although I can't seem to jump on board with the tomato juice thing.  So I went through my endless list of food pins, and decided to give these recipes a whirl and see how they came out:
broccoli cheese bites,
spinach and cheese strata
croque monsieur croissants
We also had a french toast bake (our recipe) with homemade raspberry and peach compotes, a baked brie with blackberry jam, some pastries, and a fruit salad.  It was lovely.
The broccoli cheese bites, I will admit I was a little skeptical about.  I knew they would taste good, all that's in them is broccoli, cheese, bread crumbs and eggs, but I wasn't sure if they would cook up the way I wanted them to.  I was concerned they were going to just fall apart.  However my doubts were unfounded and they came out great.  I made the patties a bit bigger than the recipe intended, but for my purposes as a side dish it worked.  I baked them in the oven on a cookie sheet, turning them half way through and they looked great and tasted awesome.  We make a broccoli casserole with Velveeta and Ritz crackers (that I'm fairly sure everyone's mom has made at some point) and these little bites tasted reminiscent of that, all in a little portable package.  Last week I also made these and baked them in little mini muffin tins, they came out perfect this way too, and it doesn't require you to turn them.  I'll be trying this with some modifications, different cheeses, spices, maybe even making some Ritz crumbs instead of the bread crumb, but it's a great base recipe that gives you room to play.
Curvy Cook rating: 4 stars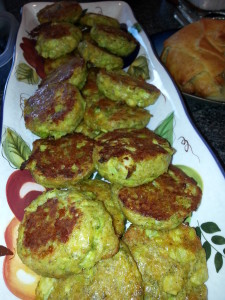 The spinach and cheese strata I was really looking forward to.  I absolutely love anything with spinach, its one of my all time favorite vegetables, right up there with brussel sprouts.  I'm serious; I could eat them every day.  An egg strata is basically an egg custard with bread and anything else you want to stick in there.  This recipe made a nice custard base, which is key.  You also have to get the right ratio of egg to bread so that the bake doesn't get dry.  The recipe also calls for gruyere cheese, which is fabulously melty and a little nutty, although super stinky (for you faint of heart cooks).  The recipe worked out perfectly, the custard soaked into the bread and it baked up fluffy and beautiful.  We easily cut it into squares in the pan and served it up.  I will say I had the leftovers for a few days after too and they warmed up just as well as that morning.  Added bonus.
Curvy Cook rating: 5 stars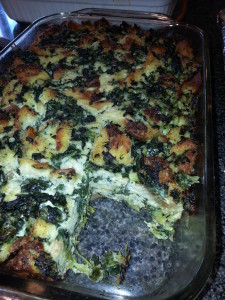 And now….drum roll please…the croque monsieur croissants.  Holy crap were they fabulous.  Croque monsieur is a super traditional, very simple french dish and is usually made with a regular white bread.  It's basically a baked ham and cheese sandwich with béchamel sauce on top.  That is tantalizing enough in its own right, but subbing in the croissants for the bread here, was pure evil genius.  I used a nice honey ham, some fresh grated gruyere (again, stinky but tasty) and small croissants.  The béchamel sauce came out perfect with no lumps and we even had some leftover to save for another time.  The buttery, flaky croissants made these super decadent and didn't get soggy at all while they baked, the sauce and the gruyere on top were hot and sticky and rich.  I could have eaten the entire tray.  Where had these been all my life?  I will be making them many times more, this recipe not only made it off my Pinterest board, but actually written into my recipe box.  Try it, you will NOT be disappointed.  Pintastic!
Curvy Cook Rating:  OFF THE CHART!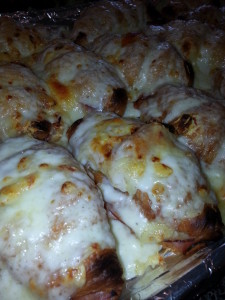 Our french toast bake, fruit compotes and brie were all wonderful as well.  It was my first time trying the fruits and they were perfect with the sweet french toast to add that little hint of fresh tartness on the brown sugar highway.  They were good too on just about anything else.  I had them on some scones the next day, biscuits would have made the cut too, and ice cream…ooooooh…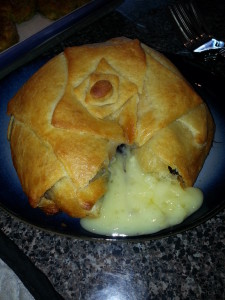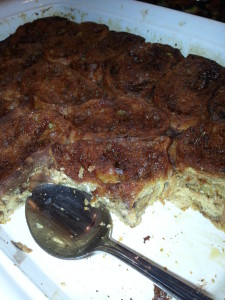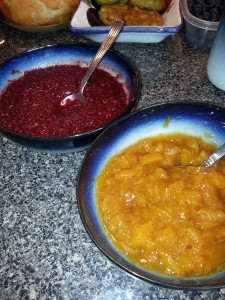 But most importantly the Pinterest experiment was a success.  All my scrolling and pinning had come to fruition and I had validated the hours of lost time as not only research, but wildly important research that has made a valuable contribution to the gods of brunch…I was giddy, basking in the glow of my tablet…now to try that wall art that you make out of old dryer sheets, modge podge, and glitter…if only I knew what modge podge was…
Happy Pinning!