Well, since our last post, we have made our way through the first leg of our road trip!  We left Nashville and had an overnight stay in Atlanta, then continued on to Savannah last night.  The drive was beautiful, we have been so lucky with weather, and at this point down here the trees are in full color, it has been lovely.  We even drove behind a truck carrying some nice sweet potatoes on the way…
Atlanta was a beautiful city where we stayed in a kick ass Omni hotel right downtown where we got lucky and were given a king size corner room on the 21st floor overlooking the whole city.  It was stunning and we felt super special.  We hung out in the hotel that night for the most part and grabbed some quick dinner at the food court in the CNN headquarters building, which was right next door.  The next day we visited the Georgia Aquarium.  It was SO  great!  The tanks are just huge and you feel like you are actually in the water with the fish!  We also went to the dolphin show and I don't even know if Sea World has a better one.  The kids would have loved it, and it was one of the first times that I have missed everyone back home.  Once we had finished up the aquarium we were back on the road.
We arrived in Savannah around 5:30 on Friday night.  We checked into the hotel and got ourselves settled in our home for the next 3 days.  We decided to take a walk around and see a bit of the city and to grab a bite to eat before we went to bed.  Our hotel is in the perfect location and is in walking distance to just about everything.  We strolled up and down the main drag a while and walked through the City Market area.  Savannah is so pretty and we noticed that it looked like a street fair was happening this week, we started to get excited.  We ended up stopping at a Japanese restaurant right across the street from the hotel and ordered a few sushi rolls for takeout.  We sat in our room and ate and then proceeded to go to bed early so that we could get a good start to the day.
We woke up early, got ready, and headed down to the concierge desk to see what we could get for reservations today.  She happily set us up with the open trolley tour and promised she would call and see if she could get us reservations to Lady and Sons for lunch…YAAAAAAY!  The trolley tour was perfect with the guide telling us all the history of the city and drove us by 15 stops along the way.  The live oaks with the Spanish moss and the monuments and architecture were amazing.  While we were on the tour, our fabulous concierge called me and told me that we had a 1:15 reservation at Lady and Sons!  I'm pretty sure I squealed a thank you and almost jumped out of my seat.  We were going to see Paula (well, maybe not her exactly, but close enough)!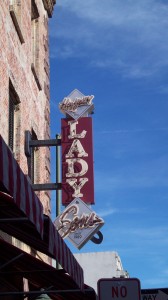 We had some time to kill after our trolley tour so we decided to hit up the street fair that we had seen set up last night.  When we got there we saw that it was actually an art fair that was related to the Savannah College of Art and Design (or SCAD as they call it).  There were about three blocks of vendors selling items from oil paintings and photography to pottery and jewelry.  The local shops on the streets were also open, so you had your pick of places to browse.  The fair ended in one of the many courtyards with more vendors and also live music and a local cafe who had set up a food booth selling a short list of items.
As we walked down the street on the first block we stopped here and there to look around.  Then we saw the sign for The Salt Table.  I was intrigued…a store just for salt?  We eagerly headed inside.  As we walked in, I realized it really WAS a store selling all kinds of salt!  Heaven!  They had little plastic cups around and encouraged you to taste the different kinds of salt that they had along with their oils, dips, flavored sugars and loose teas.  They also sold huge salt stones, used for serving or marinating some foods, and smaller pieces of salt stone all of which you could actually microplane and flake your own salt from.  This store rocked.  Pun intended.
As we went up and down the 3 aisles of salt, we heard one of the owners talking with several patrons explaining the items…which he loved, which to try, which were most popular, etc.  These people know their product.  Jay and I had our tasting cups ready and were happily trying several as we found more and more on the shelves.  We found some amazing bacon salt (hello outrageous baked potato), some roasted garlic salt, and some beautiful grey salt.  Then, we saw it.  The black truffle salt.  It was glowing like a beacon from the wood shelf that it sat on and I think I may have heard faint trumpets playing in the background.  When you opened the top and took a deep sniff we knew it was going to be amazing.  We shook a few granules into our cup and went in for the goods.  As soon as it touched your tongue, it exploded and coated your whole mouth with that unbelievable and unique earthy taste of truffle.  Jay and I looked at each other and just said "OH MY GOD".  The next words that came out of his mouth are probably some of the best I have ever heard, and the most spot on assessment of a food item ever. "That is like sex in your mouth".  I love that man.  It was true.  In the bag it went.  We also bought a brine mix for turkey and some citrus green tea.  They also had four large containers of brewed iced teas that you could buy by the cup.  I had a very serious relationship with this strawberry peach sweet iced tea that was their special brew for the day.  I had 2 cups, it was fabulous.  We headed over to the sugar section and also put in our bag a jar of coco flavored sugar that will be great on about a thousand kinds of desserts and coffees.  All in all it is my favorite store we have found and I was super excited to know that they are a very new budding business that has only been open about 4 months.  If today was any indication, they are going to take off like wild fire.  They are getting their full website up and running soon, and I can't wait til they do so I can order more of the truffle salt whenever I need it!  If you are in the Savannah area, I highly recommend a stop here, the experience was unforgettable and totally fun.
It was creeping close to 1:00 so we headed down the street to Lady and Sons not wanting to be late even for a second.  We stopped at the hostess station and gave them our name and she sent us into the waiting room between the store and the restaurant.  I was grinning from ear to ear.  There was Paula swag everyplace and I couldn't wait to browse the store after we ate.  In a very sort time, they called our name and sent us up to the third floor where our table was.  The place was packed and the buffet was steaming with all kinds of goodies.  We were seated in the bar area, and looked at the menu for a few minutes.
I decided that to really get everything I wanted, I had to get the signature southern buffet.  Jay got Paula's other signature dish which is the chicken pot pie, topped with puff pastry.  We also ordered a fried green tomato appetizer, cause we had to, yes this was not an option, fried green tomatoes are a necessity.  The tomatoes were really good with a not too heavy batter and this tomato based sauce dotted on the top along with an onion slaw.  The onions were raw but were super sweet and provided that hit of acidity to cut the richness of the fried food.  They were soaked in some vinegar and I think buttermilk, they were great.  We finished them off in no time.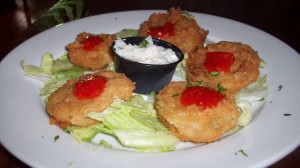 When Jay's pot pie came, it was a work of art…they lattice the puff pastry to form this beautiful top to the bowl of thick, creamy pot pie underneath.  It was chock full of chicken and you could taste every single ingredient in there.  It wasn't a big mush of flavor like some pot pie can be, but you could really taste the peas and carrots and chicken all together, and the veggies were still standing on their own and not completely soft.  It was perfect and the puff pastry cover dipped in there was pot pie gold.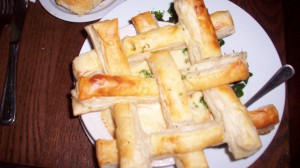 As he broke into his meal I headed off to the buffet to fill my plate.  It was a bar of southern goodness.  There was fried chicken, ribs, collard greens, black eyed peas, butter beans with ham, green beans with potatoes, mac and cheese, mashed potatoes, brown sugar sweet potatoes, cream corn, gravy and I can't remember what else.  I got all my favorites, some fried chicken, cream corn, mashed potatoes, butter beans, green beans, collard greens, and black eyed peas and mac and cheese.  I did share a few bites with Jay of each of the items, but for the most part I scarfed it all.  Not to mention the biscuits and hoe cakes that come to the table along with yet again another large glass of sweet tea (I'm an addict by the way, I'm going to need sweet tea detox when we come home).  Everything was amazing.  The greens were the best I have ever had in my life, anywhere.  Hands down.  Everything was salty and porky and buttered and it all was the better for it.  That woman knows her stuff and I bow down to the butter queen.  The meal was everything we had hoped for.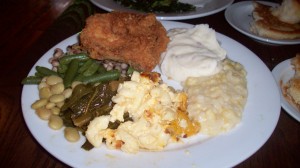 Then they brought dessert.  Jay got the gooey butter cake and I got the peach cobbler.  OMG peach goodness in a bowl.  I'm making this at home for sure, I got the recipe downstairs in the store.  It was not only peaches and a topping, but it was also this thick pastry cream inside.  It was so sweet and so gooey and good.  The butter cake was also wonderful with a crust that tasted like home made graham crackers and a sweet brownie like texture on top.  YUM.  We left feeling totally satisfied and a little more in love with southern cooking than when we had gone in.  We also decided that walking the rest of the day was not a bad idea.  We do have to fit on an airplane to get home after all.  I hit up the gift shop for a few minutes, got some recipes and some Paula swag and we headed back to walk around the rest of the art fair.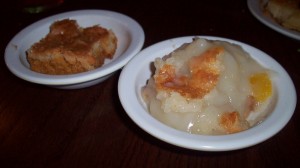 The rest of the day we spent walking and shopping and generally enjoying the gorgeous weather that we had been blessed with.  As the day wore on, we did eventually get hungry again, many hours later, and we decided to stop at the small food tent at the end of the fair.  The first thing we tried were these lovely chocolates from a local chocolatier called Chocolat by Adam Turont.  They were not only beautiful, but also some of the most complex flavors in a little chocolate package that I have ever experienced.  We tried the salted caramel, the hazelnut truffle, the pumpkin pie, and the liquid honey centered spiced chocolate mousse creams.  They were all top notch and the spices that were added to the chocolate highlited the flavors beautifully.  Perfect little bundles of happiness.
After our chocolate snack we purchased 2 mini sliders of pulled pork, a cup of tomato soup, and a cup of turkey chili from the cafe next to the chocolates.  The tomato soup and the turkey chili were both great.  Thick and rich and perfect for the cool night it was becoming.  But those sliders.  On man.  It was not your regular pulled pork.  There was no red BBQ sauce to be had, but instead there was this mustard and beer based sauce that was not only mixed into the meat but also slathered on top of it.  I know it sounds strange, but the flavors all together almost tasted like corned beef.  They were to die for.  I wanted to lick the sauce off the little paper boat it came in.  They were totally unique from any other pulled pork sandwich I have ever had, and I'm sure we will have a great time trying to recreate that sauce!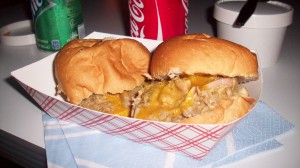 For the rest of the night we sat and listened to the live band for a while and then walked back to the hotel, stopping for some hot chocolate for me and ice cream for Jay.  Our first day here being a total success, we are heading to bed with visions of Wall's BBQ and Alligator Soul dancing in our heads for tomorrow!  More to come…