This past Saturday, I joined the ranks of married women around the world!  Everything was just perfect for our day, from the weather, to the dresses, to the food.   Jay and I are so lucky to have had all our family and friends there to celebrate with us and could not stop smiling.  The ceremony could not have been more beautiful thanks to our pastors and friends Donna and Meghan, and the reception was a blast with great dancing, compliments of some choice friends, and my drunk (soon to be) brother in law who told us all how much he loved us about a million times (we love him too!).   The feeling of joy that was pouring out of all of those who came embraced me the whole day and I'm so happy to be starting this next chapter of my life with my partner and my friend along with AC and our families.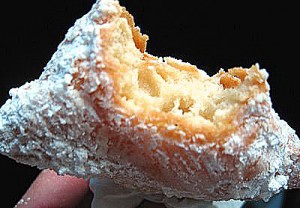 SOOOO…onto the good stuff…we are on our HONEYMOON!!!!  Now, we are not doing the typical beach-side, umbrella drink trip.  Aside from the fact that nobody needs to see me in a bathing suit for 2 weeks straight, including my husband, we really wanted a trip that we could plan around the things we love most.  Food and music.  We decided that since neither of us have never been to any of the southern states here in the US (I know, it's a tragedy), and since we both have a deep seated love of all things fried, we figured why not head south and eat our way through a good portion of the region!  Our trip begins in Nashville, TN…aka Music City!  From there we will make our way over to Savannah GA one of the most beautiful places in the country (and the birthplace of Paula Deen), and end our trip in the great city of New Orleans for some beignets and jazz.
Today was our first day in Nashville.  We landed, collected our bags, and went on over to the car rental counter to pick up our chariot for the next 2 weeks.  We got a great car, a Chrysler 200 in gunmetal gray.  It's super roomy and rides real smooth.  Jay was so pumped about our score that he didn't let me drive it all day.  He is also, as we speak, sitting on the couch in our room next to me creating his own 2011 Chrysler 200 that he is planning on buying, in some other life where we are buying a new car.  We got to our hotel within about 15  minutes of leaving the airport and were happily surprised to check into a very large room with a king size bed, sitting area, desk, and mini kitchenette.  It is the perfect way to start our trip.  We showered the travel grime off of ourselves and decided to head out to our first food destination!
I wanted to start with something really indicative of the south, so we plugged the address for Swett's Soul Food into the GPS, and away we went.  It took us about 20 minutes to get there from the hotel.  It was in a very residential neighborhood to say the least.  There was not a tourist to be seen from what I could tell, and I was thrilled.  The restaurant is very unassuming with no sign on the door, just one in the parking lot with big red letters.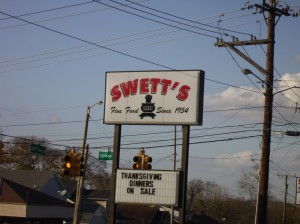 Swett's is the oldest minority owned restaurant in Nashville and has been in business since 1954.  They serve their southern soul food true cafeteria style with white trays and silverware in bins.  I chose beef tips, collard greens, loaded baked potato casserole, sweet cornbread and my first experience with real southern sweet tea.  The angels were singing, the stars were aligned, the gods were smiling…it was freaking awesome.  The beef tips had been stewed in this really rich brown sauce that was salty and satisfying, the meat so tender that I didn't even reach for my knife.  The sides were just as amazing.  The greens were so tender and slightly bitter like they should be, I even added some of the home made hot pepper vinegar that was on every table.  WOW did that have a kick, but it really brought out that unique flavor of the greens.  Now, who can argue with a side called loaded baked potato casserole?  It was everything I had hoped for, a mix of mashed potato and chunks of potato all baked together with sour cream, cheese, big pieces of bacon and chives (I think).  It was all topped of with a healthy dose of cheddar.  I will be trying to remake this at home, trust me.  The cornbread was the only thing on the whole plate that I thought was kind of uneventful.  It wasn't bad, but wasn't great either.  It was a crumbly cornbread and a little dry for me, but dipped in that savory beef gravy, I could have been eating cardboard for all it mattered…that gravy makes anything better.  The sweet tea was the perfect compliment to it all, it cuts through the saltiness with a syrupy sweet taste that helps to balance out some of the richness.  It's almost honey like, and I was pleasantly surprised to find it was also not what I was expecting, having pictured some kind of snapple like item.  It was real tea brewed tea, just very sweet.  Jay and I both left extremely happy and extremely full, him having had fried chicken, cream corn, macaroni and cheese and cornbread.  I would have tried more of his stuff but I was about ready to burst.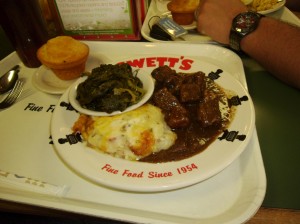 After we finished our meal, we stopped at the Gaylord Opryland Hotel and Convention Center at the recommendation of our friend Bob.  It is a huge, HUGE hotel and convention center that has acres of these beautiful botanical gardens all under an overwhelming atrium.  There are also stores to peruse and cafe's and bars to relax in.  We walked around and enjoyed the beautiful scenery, took some pictures, and watched as some guys worked at least 9 stories up in the rafters setting up Christmas lights.  I dubbed them insane, Jay thought it was cool.  Typical.
When we had walked off enough of the lard we had ingested at Swett's, we decided to stop for something sweet.  Next to the Botanical Gardens, there was a small bakery cafe with a gelato case in front that caught our eye.  After some discussion, we got a turtle brownie and a piece of cheesecake to take home, and we also ordered 2 scoops of the gelato that we were going to eat right away,  in these cute little yellow cups.
So, you have to understand that I have been on a gelato mission for years.  Ever since my cousin and I went to Italy and had gelato everyday, sometimes several times a day, I have tried to find someplace here that even remotely resembles the creamy goodness that we had there.  Imagine my surprise when I found the closest thing to Italy in a hotel in Nashville!  It was so smooth, nothing like our typical ice cream and more like frozen custard, and also has a really concentrated intense flavor.  It doesn't "kind of" taste like the flavors it advertises,  it REALLY tastes like them.  My absolute favorite combination is chocolate and hazelnut, they use a lot of hazelnut in Italy.  I got the same combo tonight.  It was so so so good.  I even sent a note to my cousin telling her of the triumph of the gelato in Nashville!  Who would have thought…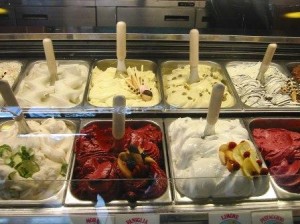 Deciding we had executed a good first day, and also deciding that we were both exhausted from waking up at 4:30 AM and flying all morning, we went back to our room.  Before going upstairs, we stopped at the cafe in the hotel to get something hot to drink to go with our treats we had for later.  This easily was the best decision we made all day.  At the front desk was a truly delightful young woman who gave us all kinds of local suggestions for restaurants and places to see, she seemed to have the passion for food that we do as well…it was fate!  We chatted with her for a while as she wrote down a ton of places on paper for us to go see that she promised we would love.  There was also another couple relaxing in the lobby who joined in for a while as well telling us some not to miss sights in our next stop, Savannah and taking great joy in congratulating us on our recent marriage.    We went upstairs to our room feeling so excited to go on our next adventure tomorrow and hit up some local joints that were promised to be better than any place in a tour book.  Hooray!  Can't wait for more…
P.S.  The people in the south really are as nice as everyone says.  We got a complimentary snack basket from the girls at the front desk when we checked in, and our foodie friend at the desk tonight, I'm convinced might be my savory soulmate.  Everyone greets you in passing and looks you in the eye and smiles.  Such a nice change from New England…
2725 Clifton Ave
Nashville, TN
220 Rudy's Circle
Nashville, TN
2800 Opryland Drive
Nashville, TN